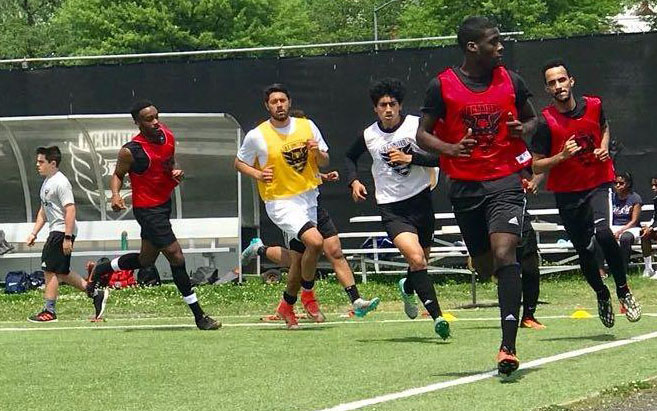 Eighteen-year-old Guyana Jaguars footballer Jeremy Garrett is buoyant about his chances of getting into the under – 23 programme of American Soccer Club, DC United after completing an audition with the club on Friday last.
Garrett, who is still in the United States, indicated to Stabroek Sport that he dominated, but ultimately the final decision lies with the scouts.
"The tryouts weren't bad, and for the most part of it, I felt like I dominated and did my best," the Fruta Conquers defender recounted of his experience.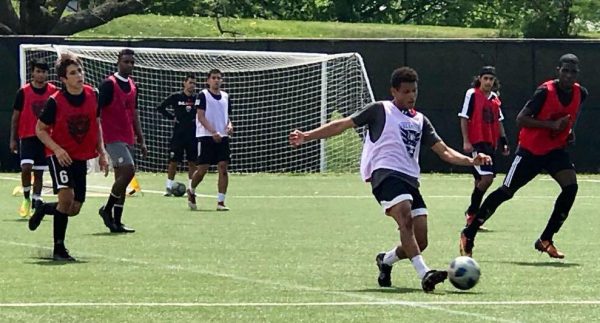 However, he added, "I'm not the coach, so I shall wait to hear if my style of play suits their liking and if they will accept me. Other than that, it was a good day at DC United."
Garrett, who is a student of the sport, indicated that from his experience in Portugal and his most recent in DC, he observed that most major league clubs look for the technical astuteness of players.
He noted that most of the day was focused on passing drills, quick movements and the technical components of the game.
Garrett, from the little feedback he received from the coaches and scouts, took heart that he may have executed well.
"The coaches and scouts didn't say much but the little they spoke showed me that I was doing a good job which made me a little more confident throughout the trial," Garrett articulated as he expressed gratitude to all those who continue to support his dream.
The center back spoke of a few limitations that may arise if selected, the foremost being the structure of the Under – 23 league in the US which only allows for competitive football in the summer, depriving him the opportunity to play a full season in the US.
That has led him to reconsider his options to play in Europe.
"Securing a spot might not be, after all, my choice along the road since I recently got to understand that the way in which the junior structure is set up here in the U.S.
"For the U23 there is no long run season for the guys, only a team is being picked in the summer to represent DC United, and that is why they ask players to secure themselves in colleges and when its spring, players may get to represent them.
"However, I would love to be in this setup for all year round and work my way up to the senior division, and by such I may need to affiliate myself with a school over here, or I shall play elsewhere maybe in Europe, and then I come back here and play in the senior set-up," the former Chase Academy student noted.
Garrett should know whether he is successful today and he has already begun to speak with a few persons about possible college opportunities.
If he doesn't go that route, Garret informed that his agent, Alex Bunbury, recently acquired ownership of a third division club in Portugal which could see him lacing up in for the said club soon.
That opening, according to the young man, is shaping up to be the ideal situation since he would get to play both in Europe and for DC United U23 during the European off-season which would catapult his development.
With all those possibilities on his agenda, he is also focused to deliver top honours for Guyana at the Caribbean Under – 20 Championships in July.
Around the Web