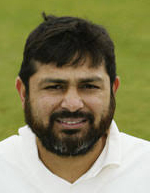 LONDON, CMC – Former Pakistan leg-spinner Mushtaq Ahmed will have a month-long stint on the West Indies bowling staff, as the squad prepares for the upcoming Sri Lanka series.
The 47-year-old will join the Caribbean side shortly on the short-term appointment which is expected to see him focus on developing the Windies spin assets.
Cricket West Indies are yet to announce the appointment but Mushtaq said he was looking forward to the assignment.
"It's a privilege to work with West Indies cricket team. A team with a very rich history of class, commitment and sheer dominance in the cricket world," said Mushtaq.
"The talent from this part of the world has been exceptional and I am quite excited to work with them."
Media reports said there was a possibility the stint could be extended
Mushtaq spent six years as a spin consultant with the England side, helping them win the Twenty20 World Cup and the Ashes series.
He has also served as head coach of the Pakistan Cricket Academy, as well as serving in several coaching positions in the Pakistan Super League and the Indian Premier League.
Mushtaq took 185 wickets in a 52-Test career, while picking up 161 scalps from 144 One-Day Internationals.
West Indies face Sri Lanka in three Tests from June 6-27.
Around the Web