Abosaide Cadogan defeated her rival Madison Fernandes in the most exciting match on the third evening of the Woodpecker Products Junior Nationals Squash tournament at the Georgetown Club Squash Court last evening.
The duo put on a beautiful display in their girls Under-15 match, with the first set being tied at 2,3,4,5, 8, 9 and 10, before Cadogan took the first set 12-10.
Cadogan continued to power her way in the second set to jump ahead to a lead of 6-2.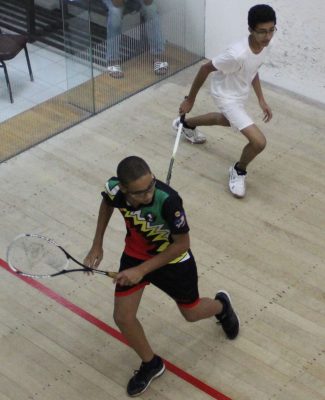 She completed her win, even as Fernandes made several fine efforts to get herself back into the contest, to take the second set 11-7 with a couple of smart plays.
Fernandes continued to execute well but came up short, losing the final set to Cadogan 10-12.
Kirstin Gomes, who is expected to challenge Cadogan for the girls' Under-15 title, defeated Aliyah Persaud 11-8, 11-3, 11-6 in their match.
Earlier, Shiloh Asregado set the tone for the evening by defeating Grant Fernandes in straight sets in their boys' Under-11 match, 11-9, 11-5, 11-0 in the opening encounter.
Joshua Verwey defeated Brenno Da Silva 11-1, 11-6, 11-3 in their boys Under-11 match.
Safirah Summer, in her girls Under-11 match, came from a set down to defeat Malia Mailcoo.
Mailcoo won the first set 13 – 11, before Summer struck back to take the second 11-4, and then surrendered the third 8-11. She, however, held it together to take the next two sets, and the match, 12-10, 11-8.
Leshaunte Berkley, in that same age group category, was also in the winner's row by defeating Rylee Rodrigues in five matches, 11-0, 14-12, 7-11, 7-11, 12-10.
Michael Alphonso continued his dominance in the boys' Under-13 category after making light work of Lucas Persaud in straight sets without dropping a point, winning 11-0, 11-0, 11-0.
Nicholas Verwey saw off James Mekdeci to win by three sets to one, 11-6, 4-11, 11-8, 11-9 in a tightly contested boys' Under-13 encounter.
Ethan Jonas earned a win over Mohryan Bask in their Under-13 match, 11-8, 11-5, 11-5.
Shomari Wiltshire also notched up another win, downing Zachary Persaud 11 – 1, in all three sets in their boys' Under-15 match.
The Under-17 matches of the evening witnessed Daniel Islam outclassing Osmond Mack 11-2, 11-1, 11-4, and Wiltshire downing Demetrius DeAbreu 11-1, 11-3, 11-2, in his second match of the evening.
Anthony Islam also earned a win, working his way past Gianni Carpenter 11-6, 11-4, 11-6.
The last match of the evening saw young sensation, Samuel Ince-Carvalhal displaying excellent form by defeating Lucas Jonas in straight sets 11-4, 11-6, 11-9.
Around the Web