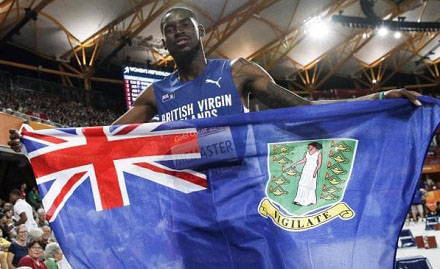 LONDON, CMC – Recently crowned Commonwealth Games champion, Kyron McMaster, says he has embraced the challenges served up by the 400 metres hurdles event.
The British Virgin Islands delivered the British Virgin Islands' first ever medal at a global meet when he clocked 48.25 seconds to capture the one-lap event in the Gold Coast last month.
"Over time I have developed a passion for the event, because I realised what I could accomplish as a 400m hurdler," the 21-year-old said.
"What I love about the 400m hurdles is it is an event that separates the men from the boys. I've seen 44-second 400m sprinters – who should theoretically be able to able to comfortably run 47-seconds for the 400m hurdles struggle to do so.   "It is an event that requires maturity and patience to reach the top level."  He added: "I hurdle because it is an event many people can't handle and I love a challenge. I like to take on and beat sprinters over 150m, 200m or 300m while I'm hurdling and they are running on the flat."
McMaster's recent success represented a triumph of the human spirit. Only last year, the BVI suffered extensive damage by the passage of dangerous category five Hurricane Irma, which also claimed the life of McMaster's coach and life-long mentor Xavier Samuels. The tragedy led to him nearly quitting the sport but he moved to the United States where he continued to train.
His Commonwealth Games success came on the heels of an impressive 2017 campaign where he ran below 49 seconds in winning the Zurich Diamond League last September. McMaster, who was third last week in Doha, said track and field had already contributed significantly to his life.
"I have also enjoyed the perks of life as a professional athlete," said McMaster.
"Being able to run a sub-49 (seconds) 400m hurdles has given me the luxury and opportunity to travel the world and meet people from many different cultures. To receive free gear through my kit sponsor is another bonus.
"Without hurdling my life would still be fun, but nowhere near as exhilarating. Hurdling helps release any stress or anger I may feel. Had hurdles not been a part of my life, I would have to find another avenue to release that stress or anger."
Around the Web