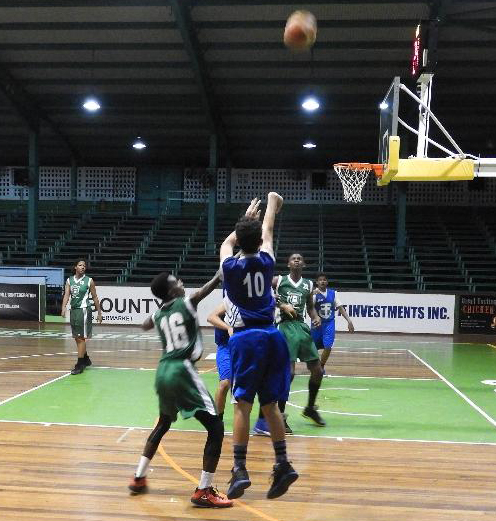 Marian Academy, St. Joseph's High, Queen's College and North Georgetown all won their matches in the U16 section of the Youth Basketball Guyana (YBG) Regional Conference yesterday at the Cliff Anderson Sports Hall, Homestretch Avenue.
Marian Academy downed Bishops' High 36-31 with Jether Harris recording a double-double of 18 points and 16 rebounds, while Jaden Daniel added nine points and 11 rebounds.
For Bishops' High, Kesann Charles netted 10 points and grabbed four rebounds.
In another fixture St. Joseph's High downed Chase's Academy 31-23.
Shaqueem Wilson bagged 17 points and 10 rebounds for St Joseph's High while Oamrey Kewley scored 14 points for Chase Academy.
In the closest match of the day, Queen's College edged Tutorial High 31-29. Lugard Mohan Jr., accumulated 19 points, 12 steals and six rebounds while Jeremiah Headley added six points and five steals.
For Tutorial, Jaden Moses registered 18 points and five rebounds while Omiha Liverpool chipped in with eight points.
Meanwhile, North Georgetown bested Brickdam Secondary 34-22. Davon Bayley top scored with 22 points to complement his nine rebounds and six steals.
He was assisted by Craig Harlequin who tallied a double-double of 14 points and 17 rebounds.
For Brickdam Secondary, Kareem Whitney scored 14 points and six rebounds.
The tournament is sponsored by Edward B. Beharry and Company Ltd, Banks DIH LTD and the National Sports Commission.
Around the Web