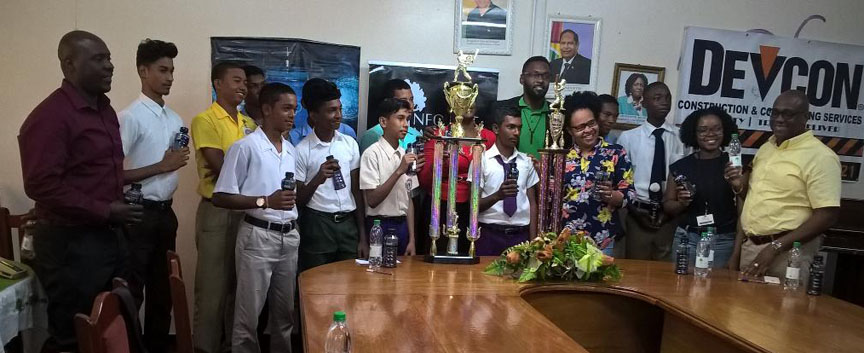 The inaugural Regional Democratic Council (RDC)/DEVCON/Lloyd Britton/Regional Executive Officer (REO) Inter Secondary School Cricket Competition will get underway Monday it was disclosed yesterday.
The competition was officially launched yesterday at the RDC Region Four's head office at Triumph, East Coast Demerara.
The competition will be a 35-overs-a-side, two innings per team knock out contest featuring 16 schools from Region Four.
According to Guyana Cricket Board (GCB) Territorial Development Officer (TDO) Colin Stuart at the launch, the competition will see each team having a maximum of 35 overs per innings and the option of declaring after 20 overs have been bowled with two innings per side.
Also, interestingly, is the points system which will become handy in the event of a washed out or abandoned match where a toss will determine the winner.
However, if the team with the less points loses the toss it will be a one off toss while the team with the most points losing the first toss will have a best out of three option.
Stuart disclosed that the initiative is a commendable one and praised the RDC Region Four for what he said is their 'insightful investment' into the sport.
Director of Sport, Christopher Jones noted that this is an opportunity to promote themselves, indicating to the young cricketers that lucrative careers can be formed with the foundation they would have gained here.
Also on board is Banks D.I.H through their PowerAde and Rainforest Water brands. Clive Pellew, who represented the company at the function, pointed out that the beverage giant had scouted two players who went on to play for West Indies and Guyana, adding that it is likely that the company intends to do the same this time.
REO Pauline Lucas, who is a former cricketer, said the tournament will bring about more cohesion among the schools as it promotes unity especially as Guyana prepares for their 52ndIndependence.
Nolan Lancaster on behalf of sponsors, Devcon Construction, encouraged the young talents to be disciplined and build friendships.
The competition will see eight days of play at two venues, the Enmore and Lugisnan Community Centres with the final set for May 24 at Enmore.
Public Relations Officer Rawle Nelson disclosed that there are 10 special prizes up for grabs in the competition, the   Most Valuable Player, Most Runs, Highest Score, Most Wickets, Best Bowling Figures, Best All-Round Performance, Most Disciplined Team and Most Catches.
Around the Web