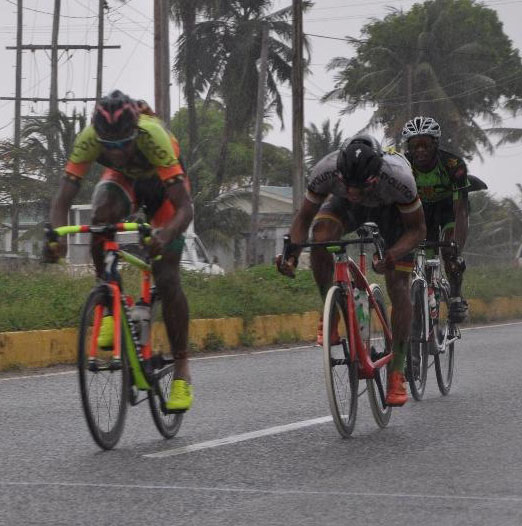 After two stages and 107 miles of racing yesterday, Jamal John, Paul DeNobrega and Curtis Dey virtually occupy the podium for the Three-Stage cycling event to commemorate the 52nd Independence Anniversary.
The United We Stand Cycle Club (UWSCC) organized fixture is wide open as the riders head into the finale today around the outer circuit of the National Park.
After John took the 65-mile first stage from Ocean View to Mahaicony and back with DeNobrega and Dey closely on his wheel, he finished fifth in the second leg around the circuit of D'Urban Park.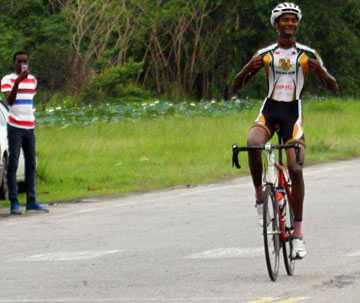 However, the five-plus minute gap the trio had on the peloton minus Chris Griffith was good enough to keep their lead intact despite the heroics of teenager, Ajay Gopilall.
The 17 year-old from Berbice brought his talents to the city and obliterated the field by two and a half minutes to win the 30-lap second stage in 2hr: 22m.31s.
Gopilall took control of the race at its half way mark by switching to super time trial mode and never let up. Dey out sprinted the remnants of the peloton with Alonzo Ambrose, DeNobrega and John close behind.
Gopilall sits in the first junior position but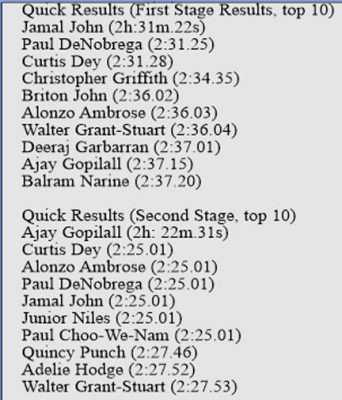 could not unseat the trio. He however managed to shave off more than two minutes and earned the respect of the fans that lined Homestretch Avenue.
The promising wheelsman who moved from ninth to fourth, will look to move further up in the standing in today's final leg which rolls off at 09:30hrs.
Around the Web