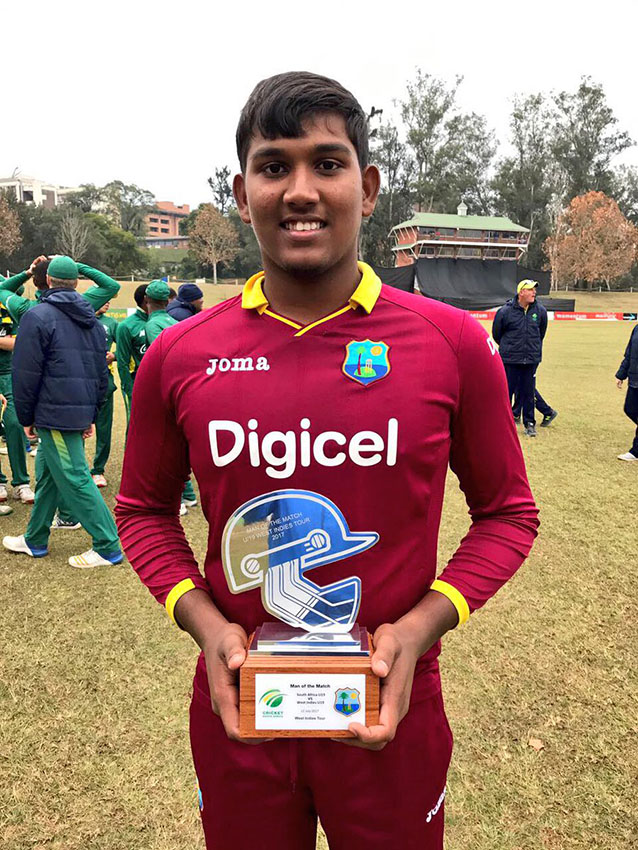 Following the conclusion of the Guyana Cricket Board/Hand-in-Hand Insurance inter-country under – 19 tournament, last weekend, only a few players raised their bats or had stellar performances with the ball with the engraving, "select me" to participate in this year's regional under -19 tournament.
Guyana are the defending champions after capturing the double in 2017 in St. Kitts and in the process, winning the one-day title for the fourth consecutive year.
This year's tournament can see Guyana creating a dynasty in the one-day version if they can capture their fifth successive title.
While the weather-plagued this year's Inter-County tournament, the usual suspects did well enough to select themselves, and there shouldn't be any major surprises in the 14-man squad given to coach Julan Moore, who is one of the selectors, to defend both titles.
Places in the side are all but sure for West Indies Under – 19 World Cup all-rounder Bhaskar Yadram, who should be given the captaincy responsibilities after his record breaking 301 against the national Under 17s in the first round of the Inter-County three-day format.
He ended the tournament with 366 runs and didn't play any of the one-dayers.
Alex Algoo and one of Guyana's most exciting prospects, Kevlon Anderson, were the other century makers  in the three-day format, scoring 111 and 120 runs respectively and both should easily retain their places in the Guyana team.
National Under – 17 skipper Sachin Singh, who scored two fifties to end with 176 runs in the three-day format is expected to partner Algoo at the top of the batting order.
Off-spinning all-rounder, Kevin Sinclair, who led Berbice to the Inter-County double this year scored 292 runs across both formats and took 17 wickets while West Indies Under – 19 wicketkeeper/batsman, Joshua Persaud, who had a quiet 2018 Inter-County tournament, are expected to be in the batting line-up for this year's tournament.
Either Junior Sinclair and or Adrian Hinds could earn selections as the backup opening batsmen and they are also both capable wicketkeepers.
Sinclair, however, is slightly ahead owing to his explosiveness with the bat which may help Guyana's cause in the one-day version. He is also a useful off-spinner.
Hinds, though, may feel unlucky if not selected since he scored an excellent 94 against the Under -17s in the three-day Inter-County tournament. He ended with 161 runs while Sinclair scored 89.
If both are selected, it will leave no room for all-rounder Dwayne Dick, a wildcard option who is also well suited for the one-day version of the tournament.
He is a talented and dangerous batman when he gets going; his off-spin and efforts in the field can all prove vital for the defending champions.
He had a lean run with the bat, scoring a total of 64 runs in this year's tournament and claimed 12 scalps with his tidy off-spin.
The spin department may see three left-arm spinners, who are all different when executing their craft, being selected.
West Indies Under – 19 lefty Ashmead Nedd and Kelvin Umroa, who claimed 24 and 21 wickets apiece in this year's Inter-County, will be the primary spinners for the three-day version while Keith Simpson, who has been consistent over the years, is expected to be the third left-arm spinner selected, mainly for the one-dayers.
He claimed 14 wickets from four games in the Inter-County one-dayers and six at the end of the three-day tournament.
There may be a temptation to go with off-spinner Karn Arjpaul, who was selected last year as a different variation, but it's difficult to see him being selected in the final 11 when all-rounder Sinclair is a capable off-spinner suited for both versions. It would also be an injustice on Simpson's part if he is ignored after observing how he bowled in the one dayers.
For Guyana, the seam bowling department will be led by Joshua Jones, who was the most consistent fast bowler in this year's tournament with 15 wickets.
He was also part of last year's championship team. He is likely to be backed up by West Indies under -16 speedster Qumar Torrington, who is easily the quickest Under -19 seamer in the country.
Anderson and the versatile Javid Karim can provide backup seam bowling options.
Possible under – 19 squad: Alex Algoo, Sachin Singh, Joshua Persaud, Bhaskar Yadram (Capt), Kevin Sinclair (vice-capt), Kevlon Anderson, Javid Karim, Junior Sinclair, Adrian Hinds, Ashmead Nedd, Kelvin Umroa, Keith Simpson, Joshua Jones and  Qumar Torrington.
Around the Web