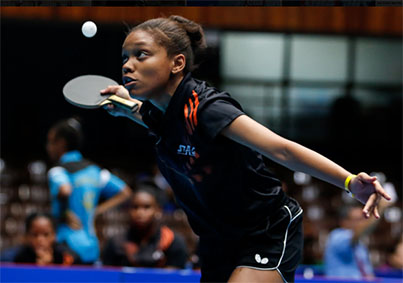 A new national women's singles champion will be crowned later this month when the Guyana Table Tennis Association stages its national championships after reigning champion Chelsea Edghill opted to participate in a training and internship programme in Portugal.
According to a press release from the GTTA, Edghill departed the United States of America Sunday for Portugal for the 6-7 week programme.
"As part of her quest to explore professional sojourn engagement the internship will last for 6- 7 weeks where she will play and train with high level players and coaches, work with junior players and play in competition and matches representing the club," the GTTA release stated.    "She will take a break to represent Guyana at the 2018 South American Games in Cochabamba, Bolivia from May 28th to June 8th as a member of Guyana's women's team along with her team mates Natalie Cummings and Trenace Lowe."
Edghill will also represent Guyana at the CAC games in Colombia but the GTTA release did not specify whether she would participate at its upcoming national championships.
"Her stint will extend from the South America Games where she would travel back to Portugal to continue training and internships duties until July 2nd 2018 where she will depart club in preparation for participation at the Central America and Caribbean Games in Barranquilla, Colombia," the release added.
Edghill, the release stated, was invited by Celeste Araujo Director of Sports at Club Ponta Do Pargo Madeira Portugal who will also serve as her trainer and Gilberto Garrido, the Club Manager who saw her play in the nationals of the Inter-Collegiate championships and were very impressed with her level of talent.
Club Ponta Do Cargo Madeira Portugal are the 2018 division two league championships winner in Portugal which possess  highly competitive leagues with highly skilled players, the GTTA release ended.
Around the Web