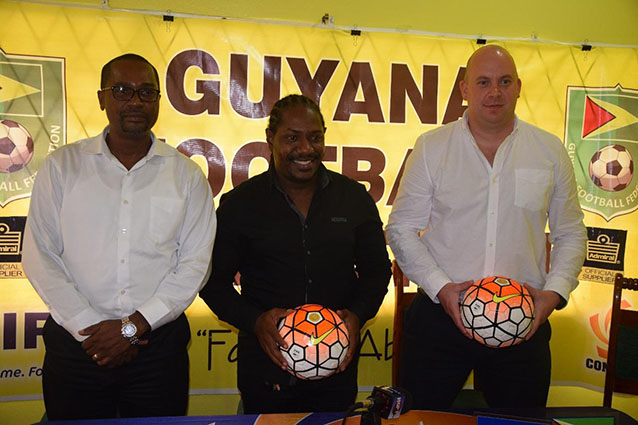 In what is being described as "historic" the Guyana Football Federation (GFF), has teamed up with promotional group Hits and Jams Entertainment to stage the CONCACAF Caribbean Women's Group-E Qualifiers as part of the Guyana Carnival Celebrations.
The partnership will result in the tournament being part of the calendar of activities for the inaugural festivities.  
President of the GFF Wayne Forde yesterday, at a press conference, stated that opportunity to collaborate with Hits and Jam Entertainment to be a part of the Carnival Calendar of Activities is historic.
Forde added that team preparation for the event is at an optimal level and that he is confident in the team winning the group and progressing into the next round.  
Meanwhile, Hits and Jams Entertainment Chief and Director of Guyana Carnival Kerwin Bollers said, he is elated to continue the partnership with the GFF, stating that collaboration is the perfect opportunity to display the Guyanese culture through sports.
He added that the hope is for the partnership to aid in the development of the sport.  
Guyana will host Bermuda, Barbados and Suriname in the 23 team tournament from next Wednesday to May 27th at the National Track and Field Centre, Leonora.
Around the Web