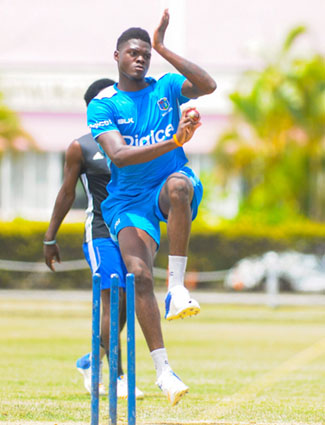 Promising Windies fast bowler Alzarri Joseph has reportedly responded well to his rehabilitation programme for a stress fracture in his back and is now working on changes that will hopefully ensure there is no recurrence of the injury.
The Antiguan quick was forced to withdraw from the Windies' New Zealand tour in December 2017. It was reported in February that he was diagnosed with a stress fracture and would have to undergo a six-week rehabilitation programme.
On Wednesday, Windies bowling coach Roddy Estwick provided some insight about what was happening with the now 21-year-old Joseph.
"What we've done today is more alignment. Alzarri is coming off a stress fracture of the back and we did some remedial work earlier and now we're trying to get him more aligned," Estwick said who during the course of the programme has introduced minor technical changes to help the bowler
"Today was all about getting the left hip aligned with the off stump which will stop the curving of the spine. We did that and it went very well. It's a day-to-day process, especially for Alzarri, who is out for a while, so we had to monitor his workload."
Estwick also provided an update on the progress of fast bowler Miguel Cummins who is also recovering from injury.
"Miguel Cummins had problems with his shin. He is coming back, we will to make sure he gets ready for the upcoming season so he was doing the same type of drills just trying to line him up with his left hip so his left hand doesn't cross over and allow his wrist to break," Estwick said.
"Those are the technical issues that we worked on this morning and it went very well. They continue to ask questions, they continue to challenge you and as a coach and that's a good thing." (Sportsmax)
Around the Web