National female table tennis player Natalie Cummings yesterday captured the vacant women's Open title of the Guyana Table Tennis Association (GTTA) senior national championships, played at the National Gymnasium.
Day three of the championships also saw Kyle Edghill and Shemar Britton crowned `B' Class and Men's Under-21 singles champions respectively.
Cummings captured women's open title left vacant by the absence of defending champion Chelsea Edghill by winning the round robin final without dropping a set.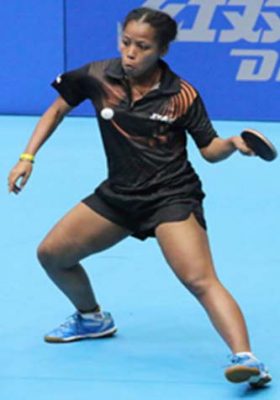 The Titans Table tennis club player first defeated Jody – Ann Blake 11-7, 11-8, 11-10 before downing her Commonwealth Games doubles partner Priscilla Greaves 11-2, 11-3, 11-4. 
Cummings completed her championship dominance by seeing off the talented Nevaeh Clarkston 11-7, 11-5, 11-5.
Jody-Ann Blake, who lost to Cummings but defeated the other players in the round robin final finished on five points to secure the second spot while Priscilla Greaves and Nevaeh Clarkston finished third and fourth with four and three points respectively.
Comeback kid Edghill then served his way to top honours in the 'B' Class Open title. 
Having lost to Shemar Britton on Saturday in the final of the boys 21-years and under category, Edghill captured the `B' class crown by seeing off Elishaba Johnson 4-3 in a fiercely contested seven set match. 
Johnson, one of the favourites to capture the crown, dominated and took the first set 11-5 to set the tone for a championship run.
Edghill, however, refused to let up and bounced back to take the second 11-7. The seesaw battle continued as Johnson clinched a hotly contested third set 15-13 before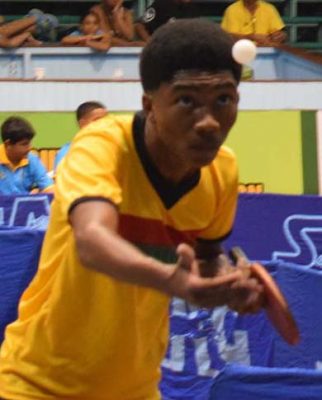 Edghill won the next two sets 11-9, 11-5 to go 3-2 up. The match was then tied at three sets apiece at the end of the sixth set, which was won by Johnson 11-8 before Edghill won the scrap by taking the final set and the match 11-9.
The `B' class champion in his semi-final match got past Kaysan Ninvalle 4-0, winning 12-10, 11-4, 11-5, 11-8 while Johnson got the better of Youth Olympic hopeful Miguel Wong by a similar scoreline 11-4, 11-7, 11-10, 11-8.
On Saturday in the Men's Under-21 final, Britton schooled Edghill in three straight sets as he prepares for his South American Games later this month.
Britton won 11-6, 11-7 and 11-6 and afterwards said that the game was getting more competitive.
The youngster indicated that this is fitting in well with his preparation for the South American Games as he looks to intensify his training prior to his departure next week.
Around the Web