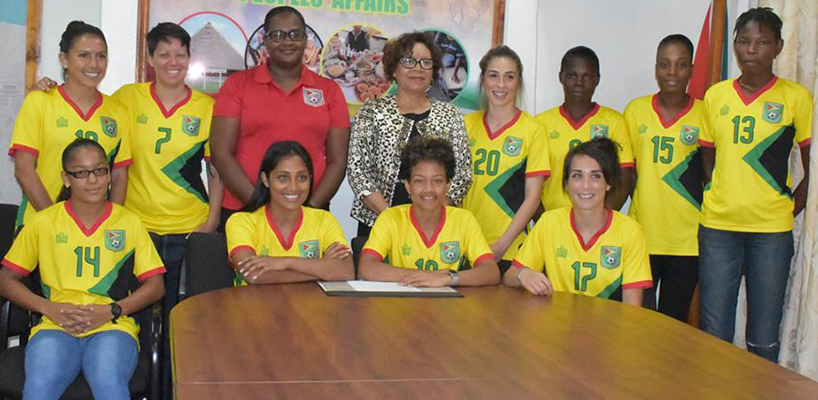 The Lady Jaguars paid a courtesy call yesterday on Minister within the Ministry of Indigenous Peoples' Affairs, Valerie Garrido-Lowe, ahead of their CONCACAF Women's Qualifiers, scheduled for tomorrow at the National Track and Field Centre, Leonora.
 Minister Garrido-Lowe said, "You have led in the sense that you encouraged others to want to play for Guyana.
You're Guyanese, you've done something good. Don't feel pressured (that you are not Guyanese by birth). I think the young ladies who dream of playing for the national team, will look up to you and will want to follow you."
 Present at the meeting were Head Coach Dr. Ivan Joseph, GFF's Technical Director, Ian Greenwood and Team Manager, Andrea Joseph.
 The team also paid a visit to the Guyana Telephone and Telegraph Company, where they were given a tour of the facility. Guyanxca will open their campaign tomorrow against Bermuda from 19:00hrs.
 They will then oppose Suriname on the 25th at the same venue from 19:00hrs, before concluding their group campaign against Barbados on the 27th.
Around the Web