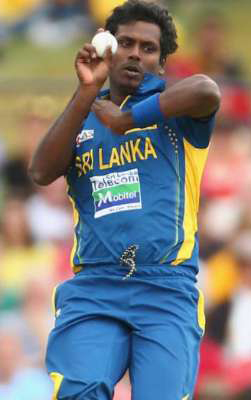 COLOMBO, Sri Lanka, CMC – Former captain Angelo Mathews had not even made his international debut the last time Sri Lanka toured the Caribbean 10 years ago.
In the interim, however, the talented all-rounder has emerged as one of the world's finest players and is now helping to be at the forefront as Sri Lanka break their jinx of never having won a series in the Caribbean.
"Winning a series in West Indies will be another box to tick," said Mathews as he wrapped up preparations here for the upcoming tour.
"West Indies have been a force in world cricket and it will be great to win over there. That's something that we have not done in the past so we are looking forward to the challenge. It will be a good achievement for us."
Sri Lanka suffered a 1-0 defeat in their first tour of the Caribbean 21 years ago, losing by six wickets in Antigua and drawing the second Test in St Vincent.
A similar series result obtained on the 2003 tour before the Sri Lankans finally won a Test in 2007, in a series that was drawn 1-1.
Mathews, who made his international debut the following year, has since become one of the side's marquee players.
He averages 44 from 72 Tests which have yielded nearly 5 000 runs, and in fact needs only 86 more to become the ninth Sri Lankan to achieve the feat.
Mathews also bowls medium pace and has taken 33 wickets, but will not be asked to bowl on the upcoming tour as Sri Lanka Cricket manages his workload.
The 30-year-old said, however, the prospect of playing Test cricket in the Caribbean was an enticing one.
"I am excited and I am looking forward to the trip. I have played in West Indies before, but that was in the shorter formats of the game," he said.
"[I am] really excited to play a Test match in the Caribbean. It's a great place to play Test cricket with a rich culture. The people in the West Indies are so very friendly and enjoy their cricket. It is great to go back to West Indies."
Sri Lanka are scheduled to leave on Friday for the Caribbean where they play three Tests from June 6-27.
Around the Web