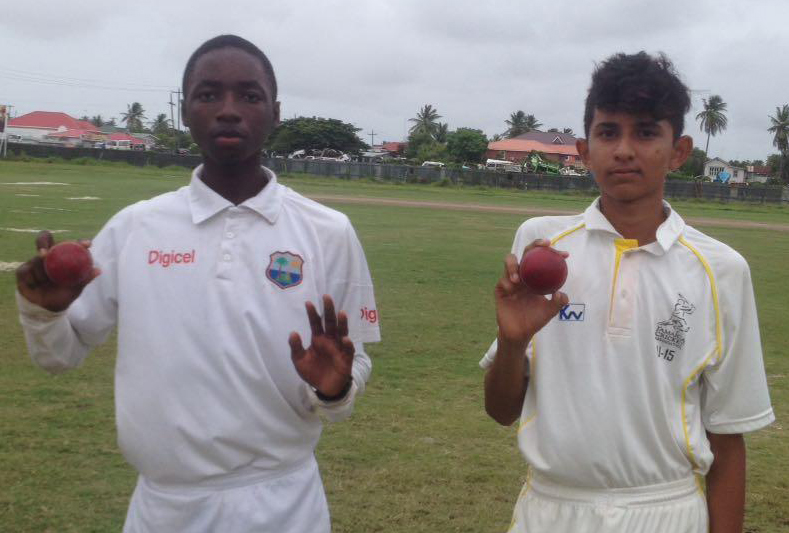 National Under-15 players, Chanderpaul Ramraj and Romel Datterdeen helped Annandale Secondary book the first spot in the final of the inaugural Regional Democratic Council (RDC)/ Lloyd Britton/Devcon Construction/Regional Executive Officer (REO) Region Four Inter-Secondary Schools knockout competition yesterday at the Lusignan Community Center Ground, East Coast Demerara. In playing  to a draw, Annandale advanced based on first innings points.s
After winning the toss and choosing to bat, they posted 103 in their first innings before bowling out Hope Secondary for 57.  Batting a second time, Annandale Secondary closed their second innings at 37-9.
Ramraj and Datterdeen turned in fine all-round performances, first sharing a 60-run stand for the third wicket, to help their team recover from 2-10 to reach 70 before Datterdeen departed for a fighting 20.
Ramraj followed soon after, playing softly into the hands of Shaquel Weekes at cover for a responsible 28. His innings included a solitary boundary.
Vinod Sundar provided a handy cameo of 14 and was the only other batsman to reach double figures as Annandale Secondary was dismissed four balls short of their maximum first innings quota of 30 overs.
In Hope's first innings, things did not go according to plan as only Rahuldev Vivakanand reached double figures (11).
Off-spinner Ramraj bagged 3-17 while skipper, Daniel Prashad finished with 3-10 and Datterdeen 2-8.
Annandale, with a lead of 46, extended it to 83 at the close, the match ending in a predictable draw with the hosts' one wicket intact after facing 18 overs.
Joshua Blackman ripped through the top order, claiming 4-11 while Mohamed finished with 3-6 for match figures of 6-8 from just seven overs.
Annandale will now have the next three days off as they await to see who will be their opponents in Friday's final with Hope playing in Thursday's third place playoff.
Around the Web