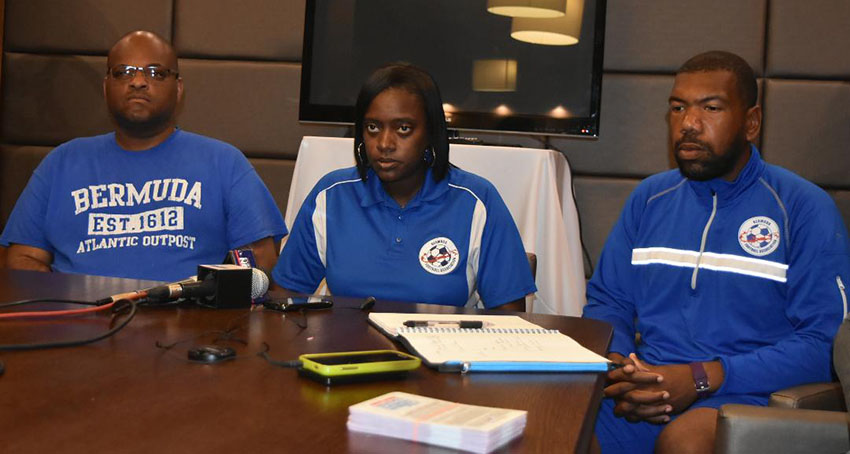 Naquita Robinson, Head-Coach of the Bermuda Women's Senior Team, declared her charges are excited to compete in the CONCACAF Qualifiers and that the expectation and objective is to win the group-E.
Speaking yesterday at the Ramada Hotel ahead of the opening clash with the Lady Jaguars today at National Track and Field Centre, Leonora, Robinson uttered, "The expectation is to win every tournament we enter."
She added, "Our girls are looking forward to it, our last tournament was in 2014 however we have been active in the U15s, U17s and the U20s. Our team is a mix of our U17s, U20s and some senior players.
A vast majority of our players play overseas in College so they bring knowledge and experience and since it has been while for some of them, they are looking forward to this tournament. It is exciting for us because we are in a development process in Bermuda and if you are aware our U17s are currently playing in the U17 CONCACAF Championship which was disrupted in Nicaragua [due to protests] which will now be moved to Florida to be completed in two weeks."
According to Robinson, "This is exciting because we want to see what the senior girls can do as we are in this process that we started in 2017, we have seven year process that we are going through in the hope to reach the Women's World in 2023. This is just another stepping stone in the direction we would like to go with women's football. Across the Caribbean it looks like they are doing the same thing so we can be well represented at the World Cup level, by CFU Teams and CONCACAF Teams."
Asked about the composition of the team, Robinson said, "In our 20 we have 15 foreign based players, they are in schools and colleges in the USA. Our captain is the only one that doesn't live in Bermuda."
Quizzed if team chemistry can be issue due to the overseas makeup of the team, Robinson said, "We started our development process two years ago so majority of the girls played together at the U20 level so they know each other and we had the team together to practice for a bit now."
She further said, "No one is knew, everyone has played with each other at least some point at the U15, U17 and U20 level. We have not brought in any new player even though they might be based overseas."
Queried if the management team possesses a scouting report of the host nation, Robinson revealed, "We watched some video, this will be the first time competing against the Guyana team in any competition, we have seen Barbados before and we haven't played against Suriname either so we rely solely on video of what we can see. We tend to be coaches that coach our system and our game and don't focus heavily on what the opposition are doing especially when we don't have the opportunity to scout. What we know is what we have seen based on the video footage from the last tournament."
She revealed that the team is confident of scoring against the defensive minded hosts, adding. "They need goals too so at some point we will draw them out and be able to attack the goal. I have complete faith that we will be able to unlock that defense and score goals because at no point does a player want to defend for 90 minutes. Having them as the first team in the tournament, they want a victory as well so if you sit in defense and I guess they want to play on the counterattack, it is at that time that we can exploit their defense."
Around the Web