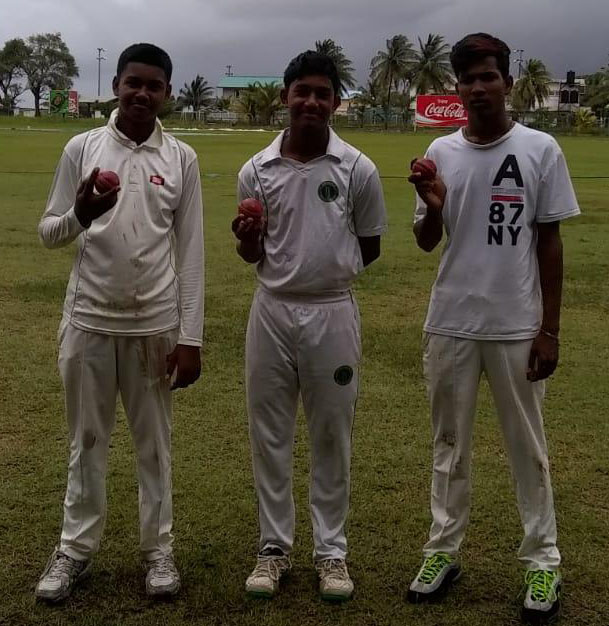 National U15 player Mavindra Dindyal spun Diamond Secondary School into the semifinals after picking up four wickets in their quarter final encounter against Covent Garden Secondary in the Regional Democratic Council (RDC)/ Lloyd Britton/Devcon Construction/Regional Executive Officer (REO) Inter-Secondary Schools Knockout Competition on Monday at Everest Cricket Club, Camp Road.
Covent Garden won the toss and elected to bat after the match was shifted from the Lusignan Community Center to Everest where they lasted only 11 overs, posting 57.
Scott Singh blasted a 17-ball 23, with two fours and one six, the top score of the innings.
Covent Garden lost their first wicket three balls into the innings but shared a 23-run second wicket stand before the innings spiraled downwards.
Dindyal missed out on a hat trick but picked up three wickets in the eighth over to end with 4-5 from just 12 balls while Krisna Singh picked up 4-18 in his four overs.
In Diamond's first innings, they too found it difficult to bat, collapsing for a dismal 73 with nearly 30 runs coming in extras.
Dindyal was once again the stalwart of the innings, playing solidly for 34 with two fours and one six.
Diamond Secondary's innings was thwarted by the medium pace of Scott Singh who bagged 5-20 while Shiv Singh produced two key wickets including that of Dindyal who was caught at backward point.
Covent Garden, batting a second time in the low scoring affair, reached 11-0.
Covent Garden faced all but six deliveries in their second innings with Naresh Singh smashing six runs from two balls to close the game on a positive note.
Diamond Secondary will now look to book their finals spot when they come up against Friendship Secondary in the semifinals today at Lusignan from 09:00h.
Around the Web