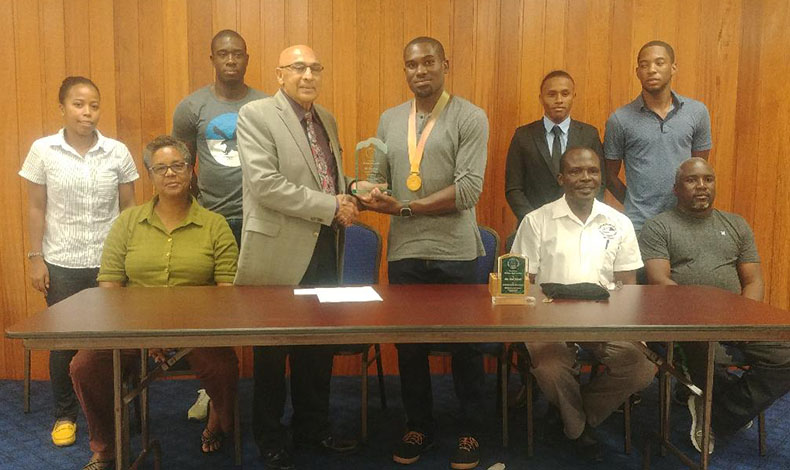 Following his historic long jump gold medal campaign at the 2018 Gold Coast, Commonwealth Games in Australia, Troy Doris was honoured by the Guyana Olympic Association (GOA) with a commemorative plaque and US$5000.
 A Guyanese via parentage, Doris leapt to a gold medal inside the Carrara Stadium on April 14th with a distance of 16.88m to etch his name into Guyana's history books.
 The soft-spoken Doris, during brief remarks, said that the accomplishment is for the entire nation.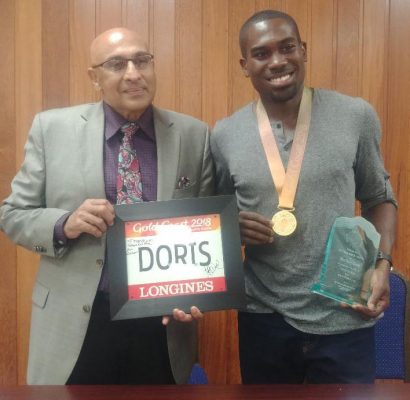 "This is about the advancement of sports and not only athletics," he declared.
 He revealed that his accomplishment "shines more light on the country" adding, "I want to say a huge thanks to the GOA, they have supported me since 2016 and I am very grateful for that."
 Doris presented his competing number to the GOA as a memorabilia of the event.  
Meanwhile, long serving GOA boss, Kalam Juman-Yassin, said that Doris has done the country proud, adding the hope is for the government and the National Sports Commission (NSC) to honour him for the achievement.
 He affirmed that it was a great gesture for the government to bring Doris to local shores following his achievement, but warned against using the opportunity for simply a photo opportunity, as athletes and coaches require constructive investment.  
 Juman-Yassin revealed that Doris will receive US$1000 from the month of June 2018 as part of a scholarship fund to aid in his advancement in the sport from the GOA.
 He revealed that other athletes that will benefit from grants include Brenessa Thompson, Kadecia Baird, Chelsea Edghill, Aliyah Abrams, Andrea Foster, Narayan Ramdhani, Winston George and Shemar Britton. They will each receive US$500 per month.
 Also, athletics coach of the 2018 Commonwealth Games, Julian Edmond, said: "It was a very good experience and we all learned so much from the experience. We know that Troy Doris has won a gold which is similar to Lavern Spencer from St. Lucia. The St. Lucian government started a High Performance Centre and we hope that Guyana would do the same so we can continue to develop and produce athletes similar to Troy."
Around the Web