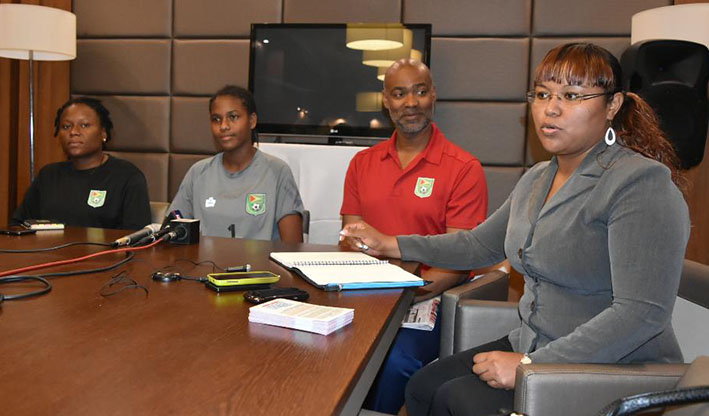 With the Lady Jaguars set to kick-off their CONCACAF Women's Qualifiers today against Bermuda at the National Track and Field Centre, Leonora, Head-Coach Dr. Ivan Joseph, disclosed that the objective of the competition is to build a sustainable national programme.
Speaking at the Ramada Hotel, Providence, yesterday, ahead of their first ever clash with the Bermudians at 19:00hrs, the Canada-based Joseph said, "At this stage my focus is on how we build a programme that is sustainable.
If I was just to think about qualifying here, we are looking at the short-term and what we are looking for is the long-term programme that really builds a sustainable Lady Jaguars programme."
He posited, "My focus is not on if we get out of this round, clearly that is one of our goals but our focus is how we build a programme that continues to want to perform and is able to perform year in and year out so that we have a national programme that feeds players and develop players. I have heard that question a few times, do we feel pressured. As a new coach because I am a month in there is no pressure on me, I am worried that the ladies might feel pressured because of those that were part of the past, they might feel that and my job is try and make sure that we have clear expectations that this team is new. You got Natalie (Nedd)  here making her senior team debut so all of those things are part of that plan and process and will help to hopefully shape realistic expectations."
Guyana will also battle traditional foe Suriname on Friday at the same venue from 19:00hrs before concluding their group campaign on Sunday against Barbados.
"We are excited to be here. Clearly we are in a tough fight, and there is quality competition. Bermuda is in the match, Barbados is in the match, we had a tough game against Suriname. We have not had a lot of opportunities to prepare but I am sure that many of the other programmes are in the same spot as we are. We feel like we have a good team and a talented group that has the right blend and mix of players and we are looking forward to see how the game plays themselves out," he said.
Quizzed if the lack of domestic football impacted the overall selection of the team, he responded, "I was hired a couple of weeks before we played in the CFU tournament in Trinidad and Tobago so that was my first time seeing the Lady Jaguars play. On that team we had 12 players making their first time debut at the national stage. Lots of those players were 17 and 16 years old on the national team programme and while that is great for the youth and future of the team, a team that is ready and mature shouldn't have 16 and 17 year olds making their debuts and I say that respectfully knowing how young our goalkeeper is."
Joseph added, "Having said that it gave us an opportunity to see the standard and the level we will be competing against and the quality of players we had in our pool to draw from. Some of those players in Trinidad and Tobago, surprised us and had now the opportunity to advance to camp. We put together a provisional list of 27 players that came in here and of the 27 players, we probably had nine or 10 local based players. That would help form our group of 20. We have players from Canada, USA, Singapore and United Kingdom. We are all aware of how global Guyana is outside of the mainland country and so it's nice to have that I think true representation of all of family and roots here.
"Now we have selection 20 but in the last days before we were checking in we had two, maybe three injuries and now we are awaiting medical clearance to see if one of those players will clear. We have two right on the edge and we have one for sure that is out so that the two right on the edge depending on if they are able to clear and go will dictate whether they get to move forward or not. If they don't then hopefully CONCACAF will allow us to advance a player from our provisional list and replace the injured players," he added.
Questioned if the team has sufficient knowledge on the strengths and weaknesses of their foe, Joseph said, "We don't have a lot of video on Bermuda, we don't know a lot of Bermuda. We know that their U17 Team is quite successful. I am imagining a lot of those players are going to be involved going forward in this tournament."
According to Joseph, "We also know that Bermuda has a lot of international based players as well, that is really all we know so when you don't know a lot you can spend time persevering on what might be and how should we. We have to do the things that we are good at and clearly we have a coach-able team, we have an excellent staff so our job is to prepare our team to showcase our strengths and be ready to make that we minimize our mistakes."
Asked if the team has worked extensively on finishing, an area that was inconsistent in their CFU Tournament, Joseph disclosed, "My focus has always been on defence, you can score six goals or eight goals, you will still lose the game. The only way I know that guarantee yourself a point is to allow none so that is where my focus has been and will continue to be. I am a defensive coach first, my personal belief is that I can guarantee myself an opportunity if I allow no goals in. If I score five and lose 6-5 I am not interested in it."
Around the Web