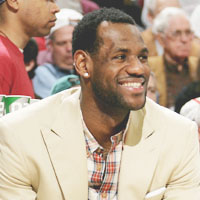 (Reuters) LeBron James scored 44 points on 17-of-28 shooting to lead the Cleveland Cavaliers to a 111-102 victory over the visiting Boston Celtics on Monday night at Quicken Loans Arena to even the Eastern Conference finals at two games apiece.
Kyle Korver scored 14 points (all in the first half) for the fourth-seeded Cavaliers. Tristan Thompson recorded 13 points and 12 rebounds, George Hill scored 13 points and Kevin Love collected 11 rebounds while scoring nine points.
Jaylen Brown scored 25 points and Jayson Tatum had 17 for the second-seeded Celtics, who dropped to 1-6 on the road this postseason. Terry Rozier notched 16 points and 11 assists, Al Horford tallied 15 points and Marcus Morris scored 10.
Game 5 is today in Boston, and James is already gearing up for the contest.
"It's a hostile environment, we understand that," James said in a postgame television interview on ESPN. "There is no love in there. If you don't have on green, if you don't play for that team, if you don't bleed green, they've got no love for you.
"So we've got to come out with a bunker mentality and understand it's just us. It's going to be a great atmosphere."
Celtics coach Brad Stevens echoed that sentiment.
"It's a best two of three to go to the NBA Finals. It doesn't get much better than that," Stevens said in his postgame press conference. "Ultimately, anybody that didn't think this was going to be tough — I mean, everything is tough. In this deal, it's a blast to have to grit your teeth, get up off the mat and go after it again. That's part of what makes these guys on both sides special."
Cleveland shot 50.6 from the field on Monday and had a 47-37 rebounding edge. Boston shot 41.2 percent from the floor.
Hill's basket gave the Cavaliers a 96-81 lead with 9:53 remaining in the contest before the Celtics rattled off eight straight points. Love and James responded with back-to-back baskets to increase the Cleveland margin to 100-89.
Boston again was within seven after Marcus Smart's bucket with 4:29 left, but Thompson and James scored consecutive baskets to again push the Cavaliers' lead to 11. Hill followed with a 12-foot floater to give Cleveland a 106-93 advantage with 2:36 left.
James drained a 3-pointer with 1:43 left to record his sixth 40-point outing of this postseason and give the Cavaliers a 109-95 lead. Philadelphia's Allen Iverson (2001) is the most recent player to have six 40-point performances in a single playoff year.
"I put the work in day in and day out on my body, working on my game every day to try to put myself in the best condition I can be in the postseason," James told ESPN afterward. "My teammates, my coaching staff allow me to go out and do the things to try to help us win and trust me.
"And besides the seven turnovers tonight, I think I earned their trust a little bit more."
Cleveland led by 15 at halftime but saw Love head to the bench with this fifth foul with 7:40 left in the third quarter as Boston crept within 11. The Celtics later trailed 80-72 after Tatum's basket with 3:40 remaining in the quarter before the Cavaliers answered with a 9-2 surge to push the lead back to 15.
Tatum's dunk with 1.7 seconds to play moved Boston within 89-76 entering the final stanza.
James scored 22 points in the first half as the Cavaliers led 68-53 at the break.
Around the Web