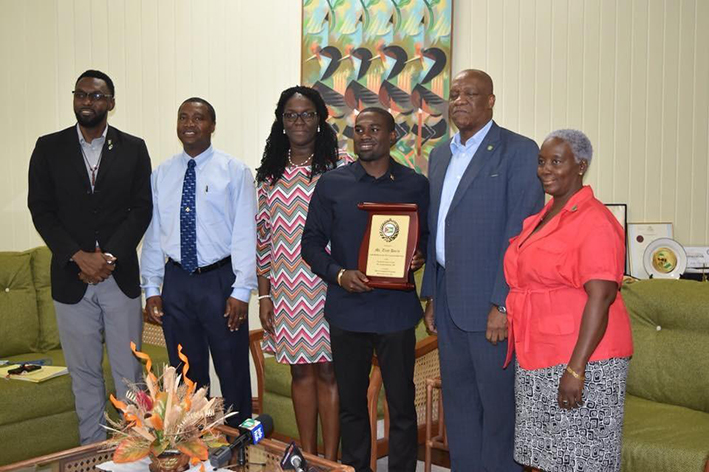 Charles de Gaulle famously quoted that "There can be no other criterion, no other standard than gold which has no nationality and which is eternally and universally accepted as the unalterable fiduciary value par excellence."
Yesterday, Guyana's Golden Boy, Troy Doris received the gift of gold from King's Jewellery World as a reward for his excellence at the Commonwealth Games which was staged on the Gold Coast, Australia last month.
Doris hopped, skipped and jumped his way to a Commonwealth Games gold medal and leaped into the record books after winning the Men's Triple Jump Final on April 14.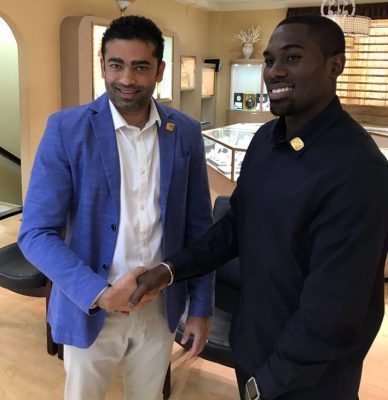 On the penultimate day of the 21st edition of the prestigious Games, the 29-year-old produced the most memorable jump of his career, a season's best 16.88m to catapult his name into the annals of history.
His winning performance was the first global gold medal for Guyana in a field event.
While at King's, the USA based athlete was greeted by Harrinand Persaud, the company's Chief Financial Officer (CFO) where he was presented with a one-of-a-kind shirt pin and the world famous cricket band in recognition of his historic achievement.
Yesterday, Doris also met with Minister of State Joseph Harmon along with Permanent Secretary of the Ministry of Public Service, Reginal Brotherson and others at the Ministry of the Presidency.
After presenting Doris with a plaque of achievement, Harmon commended his achievement, stating that his win was heralded by all Guyanese when the Golden Arrowhead was raised on the Gold Coast.
Ever since his arrival in the 592 three days ago, compliments of the National Sports Commission (NSC), Doris has been showered with praises and gifts from Mayor Patricia Chase-Green and the Guyana Olympic Association (GOA).
Around the Web