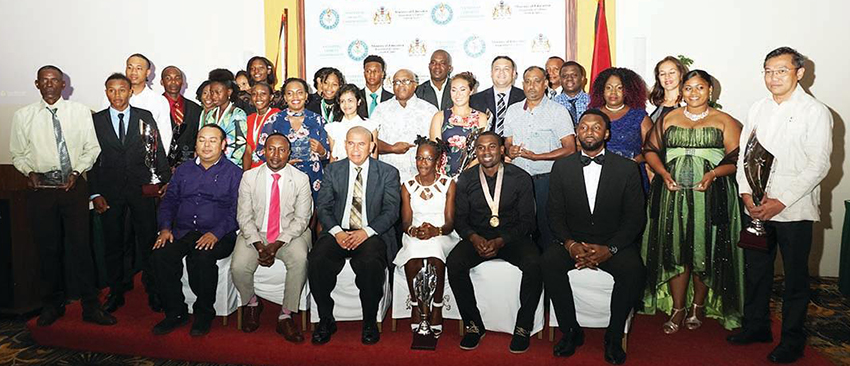 The National Sports Commission (NSC) on Tuesday recognized the outstanding efforts of the sporting fraternity in Guyana at its annual awards ceremony at the Pegasus Hotel where the Guyana Under-19 cricket team walked away with the sports Team-of-the -Year award. The Under-19 team reached unchartered territory when they bagged the double by winning the Cricket West Indies 50 overs title and the three-day version of the game in St. Kitts in 2017, adding to their title in 2016.
The team paved the way for five players to be a part of the West Indies Under-19 team,
including Raymond Perez and Bhaskar Yadram, both of whom were nominated for the Junior Sportsman-of-the-Year award.
National Cricket Coach, Esaun Crandon walked away with the Male Coach of the year prize while  Table Tennis Coach, Candacy McKenzie copped the female Coach category.
Meanwhile, Calvin Ming earned himself the Senior Sportsman-of-the-Year award while Marzana Fiedtkou won the Female equivalent of the award.
Ming reached heights in motor racing never before reached by a Guyanese as he chiselled his name into the history books as the first Guyanese win the NACAM F4 Championship Series. He was the only driver with over 300 points in the eight-round series in Mexico. Ming dominated the statistics, ending with the most wins (7), most podium finishes (17) and most pole positions (3).
Fiedtkou ended the 2017 year as the leading senior female hockey player and took  her talent to the international stage as a key figure in the national women's side.
Compton Caesar and Keevin Allicock shared the Junior Sportsman-of-the-Year award while Chantoba Bright bagged the Junior Sportswoman-of-the-Year award.  The Athletics Association of Guyana walked away with the Association of the Year prize while Hockey got its fair share of deserved recognition, as the Guyana Hockey Board won the most improved association while President of the Board, coach and player, Philip Fernandes won the Male Sports Official-of-the-Year award. Dianne Cush-Barnwell was deemed the female sports Official-of-the-Year while Natisha Mokutnauth won the female Sports Personality prize and Norman "Juiceman" Welch was unmatched for the prize of Male Sports Personality award.
Persons with disabilities were also recognized as Ganesh Singh led the charge to win the male
category while Faith King won the female division.
The media operatives were also recognized for their role in the sporting realm with Akeem Greene of Guyana Times/TVG winning the non-print Journalist-of-theYear award while Zaheer Mohammed won the print version and Royston Alkins copped the online Journalist-of-the-Year award. Guyana Chronicle's Adrian Narine won the Photographer-of-the-Year award.  Other winners of the night included Rawle Toney, New Campbellville Secondary, Cassie Small, Johanna Archer, Thenica Thompson, Princess Brown, Bianca Joseph, Malika Abrams, Walter Grant-Stuart, Troy Doris and Coach Christopher Gaskin.
Around the Web