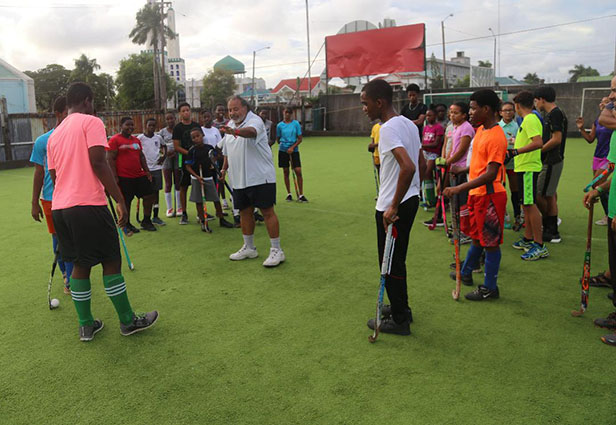 International Hockey Federation (FIH) coach Shiv Jagday, will visit local shores from tomorrow to conduct training sessions for coaches and national players.
Jagday's stint will conclude June 15th.
The training will feature theoretical and practical sessions and will also involve the fine-tuning of the male and female senior national teams in their preparation for the CAC Games in July.
Similarly, 40 boys and 30 girls between the ages of 13 and 19 comprise the junior sessions, with 30 individuals set to be a part of the coaching seminars.
President of the Guyana Hockey Board (GHB), Philip Fernandes, stated that he is excited about the programme, adding that Jagday's visit always provides a boost and leaves an indelible mark on local hockey. The veteran tactician has visited Guyana on several occasions and was instrumental in the development of the discipline during the 1980s. His most recent coaching course occurred in 2017.
According to an official release from the GHB, "The popular coach learned his hockey in his native India but has coached at the international level in both the USA and Canada. Shiv has been conducting clinics and coaching teams for the past 40 years.
"After a successful stint in the 1980s as the Canadian men's national team coach where he led Canada to its most successful international period of two Olympic appearances, two World Cups and two Pan American gold medals, Jagday branched out into developmental coaching worldwide. 
"Apart from his clinics in the USA and Canada, Shiv now spends his time in Melbourne, Australia and Punjab India where he has helped to establish a regional training institute that has seen 9 players from Punjab selected for the current Indian national team", the release said.
Around the Web