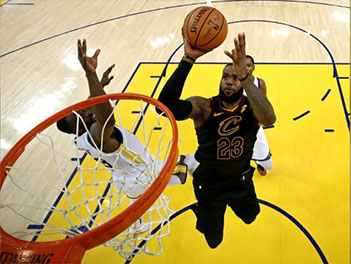 (Reuters) The NBA's "Last Two Minute Report" released Friday revealed a missed call on Golden State Warriors forward Draymond Green that would have sent LeBron James to the line with the chance to put the Cleveland Cavaliers ahead late in Game 1 of the NBA Finals on Thursday night.
With 12.1 seconds remaining and the Warriors up 107-106, Green grabbed James' arm and affected his freedom of movement. However, the infraction went unnoticed and play continued until Warriors guard Klay Thompson fouled George Hill with 4.7 seconds remaining.
Hill made his first free threw but missed his second, which Green should have been called for a lane violation during that would have provided Hill another chance at the line. Instead, JR Smith rebounded the missed free throw and subsequently let the clock run out to push the game into overtime.
In overtime, Golden State outscored Cleveland 17-7 and took Game 1 by a final score of 124-114.
The report also confirmed the correct call was made on Kevin Durant's overturned charge against James with 36.4 seconds remaining. The call was instead deemed a block on James. "The crew was not reasonably certain whether James was in the restricted area after an offensive foul was called against Durant," the report explains. "Upon replay review, it was confirmed that James was outside the restricted area. The referees also reviewed whether James was in a legal guarding position, which is an additional reviewable matter for this replay trigger. Replay showed James was not in a legal guarding position."
Around the Web