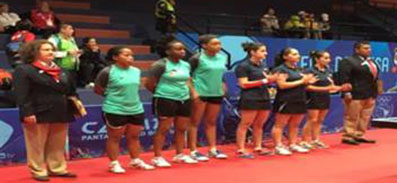 The Guyana National Women's Table Tennis Team of Trenace Lowe, Chelsea Edghill and Natalie Cummings were eliminated from the team event at the South American Games after losing 0-3 to Colombia yesterday in Cochabamba, Bolivia.
After qualifying for the quarter finals by virtue of placing second behind top seeds Chile in their Group qualifiers, the Guyanese women went down fighting to Colombia.
Chelsea Edghill lost the opening encounter to Paula Andrea Medina Bermudez 12-10, 11-5, 7-11, 5-11 and 11-7 while Lowe went under to Manuela Echeverry Ocampo 10-12, 8-11, 9-11.
The Colombians then wrapped up the tie with Bermudez and Ocampo defeating Edghill and Lowe 7-11, 11-7, 11-8, 5-11, 11-7 in the women's doubles.
The team had earlier beaten Ecuador 3-0 margin to advance to the quarterfinals.
Playing in high altitude conditions the women, seeded 6th in South America, overcame an earlier loss to the top seeds in the group Chile to defeat Ecuador in a must win match to advance to the quarterfinals.
Against Ecuador Lowe defeated Mylena Plaza Rivadeneira 11-8, 11-9, 8-11 and 11-7 while Edghill defeated Nathaly Noelia Paredes Murillo 11-3, 11-13, 11-8 and 11-9.
Lowe/Edghill then defeated
 Murillo/Rivadeneira 11-8, 11-3-11-3 to book their place in the next round.
Earlier the Guyanese women lost 0-3 to the top seeds Chile with Lowe losing to Daniela Yolita Ortega Gomez 4-11, 8-11, 7-11while Edghill lost to Paulina Vega Magana 5-11, 8-11, 11-9 and 8-11.
Gomez and Magana then defeated Lowe/Edghill 11-8, 11-8 and 11-8 in the doubles.
According to a release from the Guyana Table Tennis Association (GTTA) the women's team is using these games to improve ranking points and as preparation for the Central America and Caribbean Games scheduled for Barranquilla Colombia from July 19th to 4th August and for the senior Caribbean Championships.
Around the Web