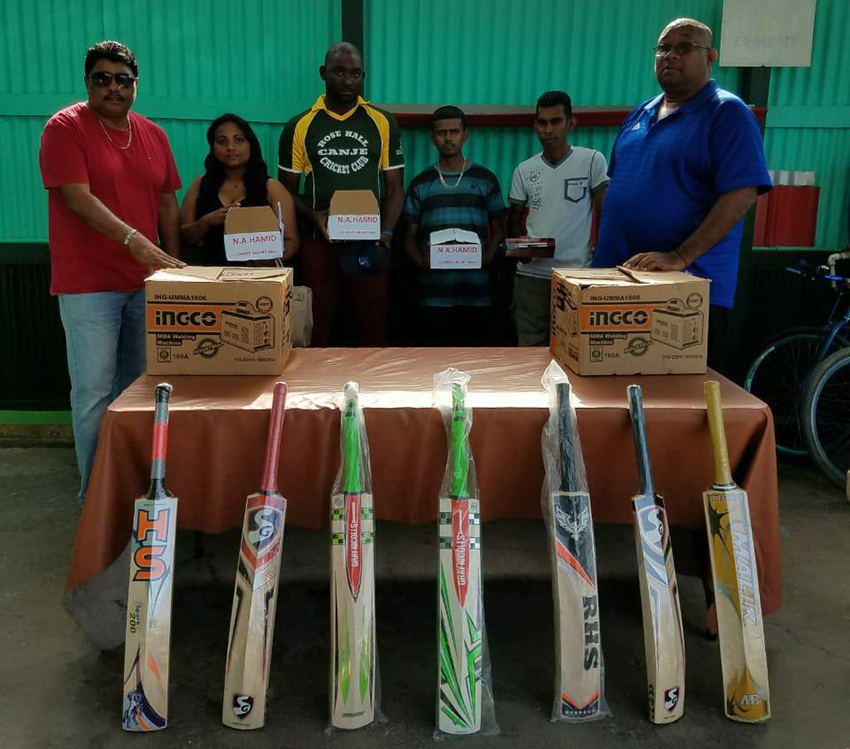 Cricket Clubs in Berbice last Saturday received a quantity of balls as Berbice Cricket Board (BCB) president Hilbert Foster and his predecessor, Anil Beharry continued their efforts to assist clubs with sponsorship to the value of one million dollars' worth of cricket balls.
Foster, had, in April, committed himself and the board to assist every cricket club in Berbice with a box of cricket balls.
The project was launched with total of $300,000 worth of red and white cricket balls being donated to 22 clubs including all of the first-division teams.
At a simple presentation, Beharry handed over cricket balls to four clubs in the New Amsterdam/Canje area and also presented 20 boxes of balls to Foster.
Betsy Ground Cricket Club and the Kendall's Union All Stars also received one box of balls while the Rose Hall Community Centre and Kendall's Union Sports Club carried home the necessity.
Beharry said he was delighted to be part of such a historic project which he was sure would have a positive impact on Berbice cricket.
The balls were received from contributions of friends and close associates of the former BCB president, after he made a passionate appeal for assistance via his Facebook account.
Beharry stated that Berbice cricket would always have a special place in his heart despite living in Georgetown, due to work commitments.
The New Building Society Assistant Chief Executive Officer said that he was willing to accept the challenge when Foster invited him to join the project. 
Foster disclosed that Beharry's contribution means that a total of just under $600,000 in cricket balls have been shared out to 46 clubs. With Berbice having about 80 clubs, another 34 would receive their cricket balls by August.
Foster praised Beharry, whom he described as a trusted, faithful servant of Berbice cricket.
Foster, who is also the Secretary/CEO of the Rose Hall Town Youth & Sports Club, said that 2018 would be remembered as the year that Berbice was returned to its rightful place on the cricket map and pride restored.
Foster stated at the completion of the project, he would seek to assist promising young cricketers with personal gear as part of a comprehensive developmental programme. He also announced the formation of a Special Events Committee.
Veteran cricket administrator Angela Haniff heads the committee which includes Gregory Rambarran, Winston Smith, Mark Papannah, Lakeram Latchman, Simon Naidu, Dr Cecil Beharry, Albert Budhoo and Foster.
The Special Events Committee shall be responsible for organising events that would assist players and clubs.
Beharry said he would like to acknowledge the contribution of following persons who made the donations possible – Rakesh Seepersaud, Noreen Gaskin, Derick Beharry, Guytri Devi Beharry, Randhall Patterson, Kenrick Beharry,  Pamela Kewlachand, Mukheshwer Dyalmtai, Allan Mangru, Owen Humphrey, Surendra Hiralal and R. Mathura. 
Around the Web