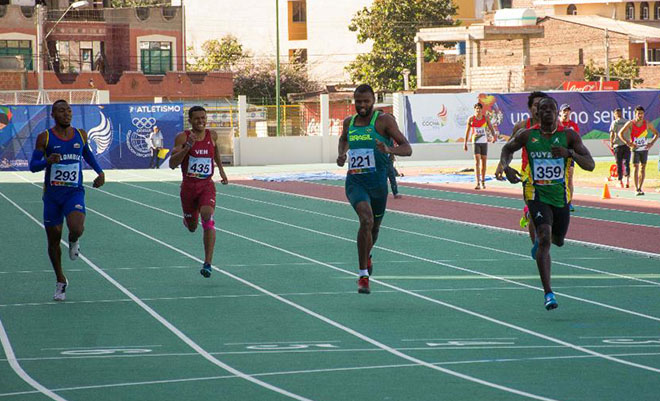 National 400m record holder, Winston George narrowly missed out on the top podium spot yesterday, placing third in the final of the men's quarter mile event at the ongoing South American Games in Bolivia.
George won bronze in a 45.67s just off the Brazil's Lucas Carvalho's winning time (45.61s) and silver medalist, Yilmar Madera (45.64s) of Colombia.
George will be back on the track today with fellow countryman, Akeem Stewart. The pair will contest the 200m heats.
Leslain Baird, however, was the best the among the locals, earning a silver medal in the javelin throw en route to smashing the national record which he has broken on numerous occasions in the last two years. 
Baird threw 79m to emphatically erase his old mark of 74.76m. Talk about saving your personal best for the biggest of stages.
He was tied for second with Argentina's Braian Toledo with the winner from Colombia, Arley Ibarguen throwing 80m.  Elsewhere on the straights, 100m hurdler, Jenea McCammon also snared bronze in 13.39s. She was led by fellow podium dwellers, Genesis Fernandez (13.08s) of Colombia and Peru's Diana Alava (13.36s).
Boxers, Keevin Allicock (bantamweight) and Colin Lewis (light welterweight) also snared bronze medals for the Golden Arrowhead. Despite losing their respective semi-final bouts, the pair will return home with hardware.  According to reports from the Chef-de-Mission, Keavon Bess, Allicock went the distance with Argentina's Carlos Alanis while the referee controversially stopped the Lewis bout prematurely versus Colombia's John Agudelo who went on to win the gold. In table tennis  Trenace Lowe and Chelsea Edghill advanced to the round of 16 in the women's singles while national 21 years and under champion Shemar Britton almost pulled off a major upset against the top men's seed.
Britton played an exciting thriller against top seed and world number 65 ranked Eric Jouti of Brazil losing by a 3-2 margin. Britton won the first two games 11-5, 11-5 and led 9-6 in the third before losing that game 10-12 and allowing Jouti to win the other two games.
Around the Web