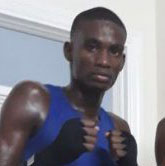 Guyana's 11 representatives in the four disciplines finished with five medals when the South American Games concluded yesterday in Bolivia.
Boxers Keevin Allicock and Colin Lewis and track and field athletes, Leslain Baird, Winston George and Jenea McCammon were the medalists for Guyana.
Badminton player, Narayan Ramdhani, table tennis players, Shemar Britton, Trenace Lowe, Chelsea Edghill and Natalie Cummings along with sprinter Akeem Stewart were the nation's other representatives at the event which started on Independence Day (May 26) in Cochabamba.
George, the national 400m record holder narrowly missed gold in 45.67s, just off the Brazil's Lucas Carvalho's winning time (45.61s) and silver medalist, Yilmar Madera (45.64s) of Colombia on Wednesday.
 Baird, set a new national javelin record (79m) en route to earning a silver medal. He was tied for second with Argentina's Braian Toledo with the winner from Colombia, Arley Ibarguen throwing 80m. McCammon won bronze in in the 100m hurdles in 13.39s. She was led by fellow podium dwellers, Genesis Fernandez (13.08s) of Colombia and Peru's Diana Alava (13.36s).  Allicock (bantamweight) and Lewis (light welterweight) also earned bronze medals for the Golden Arrowhead. Despite losing their respective semi-final bouts, the pair will return home with hardware tomorrow.
Notes: Among the 14 territories that competed inclusive of Aruba (13th) and Suriname (12th), Guyana finished 14th. Colombia, Brazil and Venezuela were the top three nations on the medal table. Colombia finished with 239 in total (94 gold), Brazil ended with 204 total (90 gold). Venezuela had 157 total with 43 being gold.
This year marked the 11th edition of the South American Games. The first Games were held in 1978 in La Paz, Bolivia. They have since been held every four years, with the most recent edition in 2014 in Santiago, Chile.
Around the Web