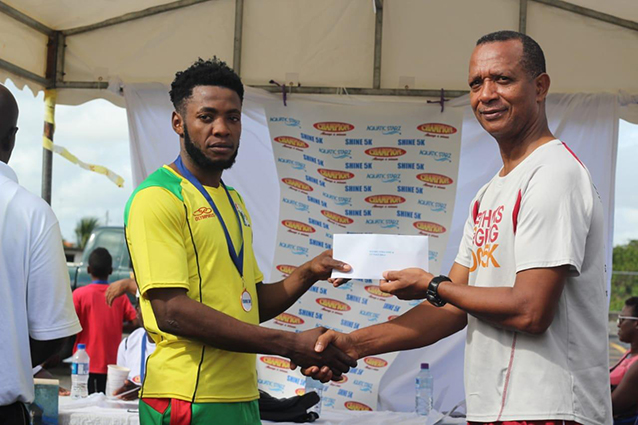 Winston Missigher outsprinted rival Cleveland Thomas to win the Aquatic Starz 5k run Saturday morning in the Diamond Housing Scheme.
Battling a field of 112 competitors, Missigher, who blazed the trail in the early morning sun stopped the clock in 15:16:70 while Thomas finished second in a time of 15:17:23.
In an interview with this publication, Missigher said that he was pleased to secure the win, noting that the condition was painful but nevertheless ready for the challenge while Thomas acknowledged a good race by the victor pointing out that he was "rusty".
The two frontrunners secured the early breakthrough with a five-man pack which came down to four at the half way stage as the runners started from the Diamond Tarmac heading across First Bridge, into First Avenue where they headed to the last street and down the scheme into Sixth Avenue before crossing Second Bridge and back to the Tarmac for the finish.
The two separated themselves from Marlon Nicholson and Odwin Tudor with 1.5K to go.
Meanwhile, in the female 17-49 years category, Joanna Archer was unassailable, clocking 18:58:71, three minutes ahead of her closest competition, Alliyah Moore while Carla Benjamin and Tamar Charles finished in that order.
Cordel Charles (17:35:61) secured the top spot of the boys 11-16 years category while the Police club duo of Widdon Antigua and Ronaldo Hendley finished second and third respectively.
In the female equivalent, Aliza Persaud (22:12:24), Donna Lowe and Alliya Clarice copped the podium spots in that order.
In the 50 years and above category Gary Hartog won the male division and Mariko Russell the female category.
There were two differently abled persons who competed in the event with the use of their wheelchairs with Uttamkumar Isurdeen rolling to victory.
Isurdeen, commenting on the event, thanked the organisers and sponsors for including them but stated that he had to battle with speedbumps and many potholes along the Diamond community roadways.
Around the Web