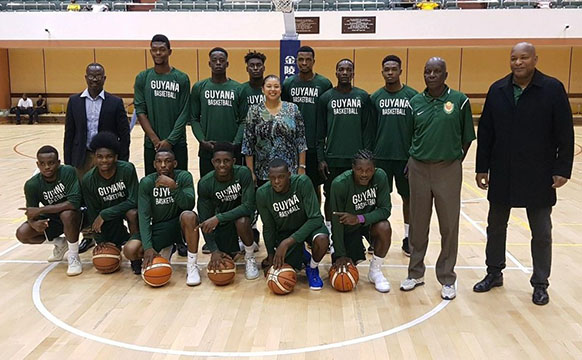 By Charwayne Walker
It took 56 years for basketball fans in Guyana, formerly British Guiana to celebrate a series triumph in Bridgetown, Barbados.
The 2-1 series triumph by the Stanton Rose led Guyana side in the just concluded Goodwill Series which serves as preparation for the upcoming Caribbean Basketball Confederation championships, was the first win by any national men's team in Barbados and also served as a morale booster ahead of the championships in neighbouring Suriname.
Guyana first opposed the Bajans four years before this country gained Independence. In that inaugural series in July, 1962, the side representing the Land of Many Waters, playing under the captaincy of Brian 'The Kid' Dummett, lost a four match series to hosts Barbados by three games to one.
The 1962 British Guiana Team was: – Brian Dummett – Captain, Hewley Henry, Michael Mitchell, Orson Forbes, Ovid Jackson, John Small, Eldon Vaughn, Godfrey St. Hill, Joseph Small, Ken Barrow and Rudolph Franklyn with Ken Corsbie as the Manager.
In the opening encounter played at the YMCA hardcourt in Bridgetown, the locals lost a nail biter 53-55.
Tony Sealey top scored for the hosts with the game-high 18 points while Adrian Garnes 11 points, Anthony Gregoire 10 points and Winston Lucas 6 points lent support.
For British Guiana, Godfrey St. Hill top scored with 12 points while Hewley Henry 10,   Orson Forbes nine, Rudolph Franklyn seven and Eldon Vaughn with six points were the other major contributors.
 British Guiana, though,  bounced back to take the second game 76-64 but the side flattered to deceive losing the other games 56-58 and 61-75.
The next time the land of the mighty Kaieteur Falls contested an international match in Bridgetown was in September, 1973. On that occasion the Mike Brusche-led squad won 56 to 52.
The 1973 National Team was :- Michael Brusche (Captain) Hewley Henry, Harold Caesar, Gavin Kendall, Ronald Pickering, Herman Sullivan, Phillip Daniels, Melroy Fitzalbert, Aubrey Chalmers, Keith Hinds, Abdulla Meusa, Winston Joseph and Raymond Goulding – Coach.
Brusche top scored for Guyana with 12 pts, Winston Joseph, Ronald Pickering and Hewley Henry 8 supported with eight points each while Melroy Fitzalbert had s even and Phillip Daniels six.
For Barbados: Richard Clarke top scored with 13 pts, Harry Garnes 10 pts.
Please note that this was only a one off match because Guyana was on its way to Puerto Rico for the 1973 Central American Basketball Championship.
The next series was played in 1974 again at the YMCA hardcourt and Barbados won 2-0.
Again the Guyana team was led by Mike Brusche and the other members of the team were Melroy Fitzalbert, Merton Fitzalbert, Aubrey Chalmers, Compton Hinds, James Devonish, Clifton Brusche, Neville Wiltshire, Harold Caesar, Orin Cumberbatch and Frederick John.
Game one was won by Barbados 84 to 74. Malcolm Stanton top scored with 20 points while Richard Toppin, 19, Jeffrey Stoute, 17 and Harry Garnes 14 points were the principal contributors.
For Guyana: James 'Bumpy' Devonish top scored with 16 points while Skipper Mike Brusche supported with 15, Compton 'Lofty' Hinds 12 and Aubrey Chalmers 10 points.
 In the second game, Barbados won 63 to 57. Malcolm Stanton 17, Harry Garnes, 17 and Jeffrey Stoute 16 points were the main scorers while for Guyana, Merton Fitzalbert top scored with 17points and his brother Melroy Fitzalbert chipped in with 10.
The 1978 series again played at the YMCA hardcourt in Bridgetown was drawn with
Guyana winning game one 86 to 74 while Barbados won game two 60 to 47.
The 1978 National Team was Aubrey Chalmers (Captain) Phillip Daniels, Orin Cumberbatch, Eon Andrews, Hewley Harry, Merton Fitzalbert, Keith Alexander, 
Stanislaus Hadmon (deceased), George Sharples and Winston Osborne.
Guyana suffered another loss in Bridgetown in August, 1985 but on that occasion it was at the 4th CARICOM Championship. Barbados won that clash 100 to 73. Present President of the GABF, Nigel Hinds was sensational on debut, top scoring for Guyana with a game high 25 points.
. The 1985 National CARICOM Squad: – Eon Andrews (Captain) Schubert Cappell (deceased) Mark Agard, Leon Christian, Auric Tappin, George Sharples, and Hubert Adams, Cecil Left Hand' Melville, Dave Trotman, Ray Williams, James Brusche, Nigel Hinds and Hewley Henry (Coach)
The 1994 Goodwill Series played at the Sir Garfield Sobers Gymnasium was blighted by bias refereeing and the Guyana Coach, Erik Rashad, duly called his team off the court in the third game.
The 1994 Guyana Squad:- Auric Tappin (Captain) Robert Cadogan- (Co-captain) Leon Christian,  Edgar `Bol' Thomas, Eion `Wico' Leitch, Don Fletcher, Sean Semple, Lugard Mohan, Ron Robertson,  Kerwin La Farge,  Lancelot Loncke, Dane Kendall, Rawlwin `Blackie' Loncke, Ralph Scotland and Erik Rashad- Coach
Barbados won game one 83 to 54 with  Rawlwin Loncke leading Guyana with 19 points while Barbados also won  the second game 77 to 60.
Game three was abandoned when Guyana's coach Rashad called his players off the court with 12 minutes remaining in the game. The host team was leading 57 to 38. Richard Clarke of Barbados was the referee.
The Bridgetown dominance continued in 2000 when Guyana returned to Bridgetown in June of that year but again the Bajans prevailed.
Playing this time under the captaincy of Lugard Mohan, Guyana lost that CARICOM clash 86 to 69. The late DC Jammers' star Deryck Boyd led Guyana with 20 points while Lorenzo Withrite scored 15 points.
The 2000 National Squad was Lugard Mohan (Captain) Orin `Baby' Mohan, Lancelot Loncke, Remington Ram, Sherwin Devonish, Deryck Boyd (deceased) Dexter Martin, Lorenzo Withrite, Andrew `Mr. Dunk'  Ifill, Darren Ainsworth, Steven Nurse, Steve Neils Jr., Bernard Daniels (Coach) and Robert Cadogan (Assistant Coach)
Finally the jinx was snapped in 2018 when the conquering heroes, led by 18-year-old Stanton Rose, finally departed Grantley Adams Airport with a series triumph over Barbados.
Game one- Barbados won 93 to 76. Anthony Moe led Guyana with 19 points and 15 rebounds while Harold Adams supported with 16 pts and Shane Webster 13.
Game two – Guyana won 70-64. Harold Adams 15 points, Anthony Moe 13 rebounds and six  blocks, skipper Stanton Rose 11 points and nine rebounds and Webster seven points were the main contributors.
Game three- Guyana won 79 to 68- WIN SERIES 2-1. Skipper Stanton Rose 15 points, nine assists and 8 rebounds, Anthony Moe nine pts and Travis Belgrave eight points.
The Historic Guyana National Basketball Team 2018 Goodwill Tour to Barbados:
Stanton Rose- Captain, Anthony Moe, Orlan Glasgow, Shane Webster, Harold Adams, Timothy Thompson, Kevon Wiggins, Felix Hamilton, Ray Victor, Travis Belgrave, Nikkoloi Smith, Dominic Vincente, Domair Gladstone, Travis Burnett, Nickon McGregor, Junior Hercules (Head Coach) Nigel Hinds (Manager).
Around the Web