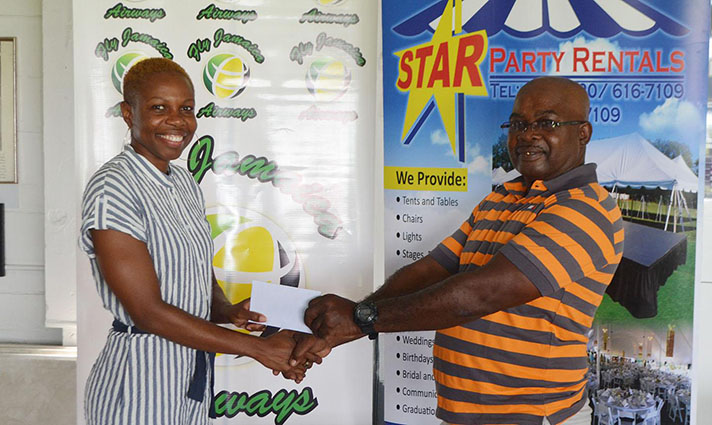 Like a good neighbour, the Guyana Committee of Services (GCS) is there.
Yesterday, a presentation was made to Aliann Pompey as a show of support for the third Aliann Pompey Invitational (API) which will be staged on Saturday at the National Track and Field Centre. 
Executive member of the GCS, Leslie Blacks stated that the presentation was the Committee's way of showing their appreciation and support for "one of Guyana's best female athletes."
The USA-based Pompey, thanked Blacks and the committee following the presentation and stated that substantial support is critical for making events of such magnitude a success.
The 2002 Commonwealth Games 400m gold medallist, said that she was  overwhelmed with the support the flagship event on the AAG's calendar is receiving and stated that Saturday will be memorable for fans.
The fixture continues to evolve and attract superstars in the track and field arena.
This year's Invitational is scheduled to be headlined by Grenada's 400 metres Olympic and World Champion, Kirani James and 2018 Commonwealth Games triple-jump gold medallist Troy Doris.
Pompey added that she was glad to see the direction the sport has been heading in the 592 and disclosed that the Invitational's headliners, James and Doris, will arrive tonight at the Cheddi Jagan International Airport at 21:00hrs.
The API is the only event of its kind in Guyana where athletes from across the Caribbean, Central and North America, converge on Leonora for what has been the best showing of track and field in Guyana.
Fly Jamaica, E-Networks, Quality Plus, Banks DIH, the Ministry of Communities and SleepIn International Hotel and Casino are some of the sponsors onboard so far.
Action is set to start at 15:00hrs on Saturday. Tickets cost $1000 (stands) and $5000 (VIP).
Around the Web