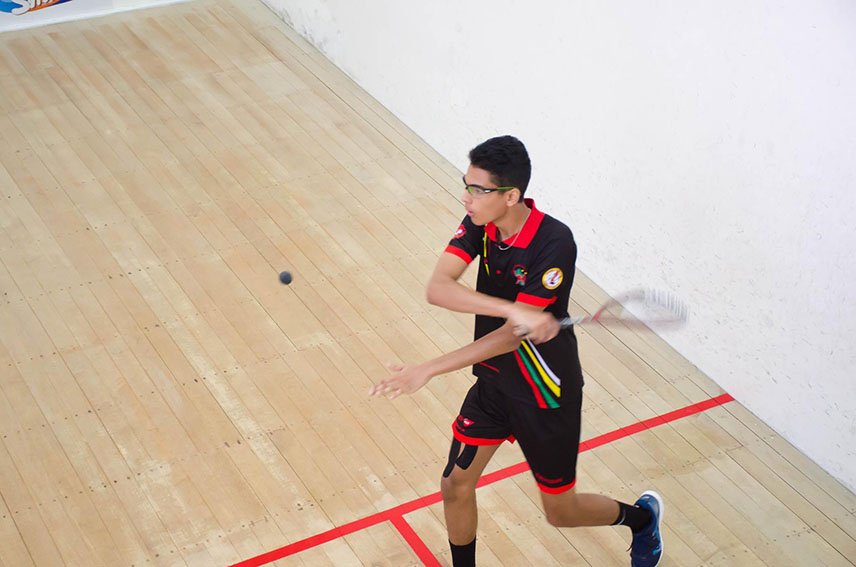 In a bid to return championship honours to Guyana, two of Guyana's most senior members of the Junior National Squash Team are currently in Canada ramping up their preparations for this year's Junior CASA Tournament in Jamaica. 
 Alexander Cheeks, 18, who is this year's captain, and Rithew Saywack, 18, have both being members of the team during Guyana's period of dominance of the Caribbean from 2005 to 2016. 
 They have also experienced the bitter taste of defeat. Last year, when Guyana hosted the CASA Championships, they were part of the team which surrendered the all-around title to Barbados, ending the much talked about 12-year dynasty.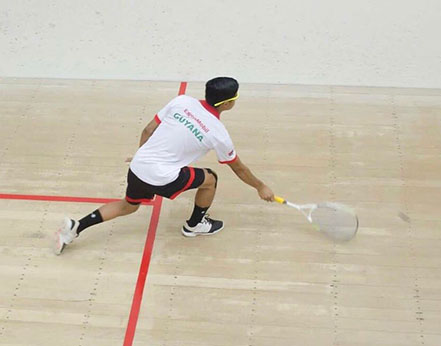 One year on, all members of the team are profoundly desperate to re-establish Guyana's dominance and commence another golden era. 
 "I am very motivated to lead my country to victory," Cheeks declared to Stabroek Sport during an exclusive interview, while noting that the 2017 championship loss is pushing the team "harder." 
 "Being in a leadership role does add a bit of pressure," he admitted, "But I always follow the teachings of Bruce Lee, who thought me to keep my 'mind like water'," the young man emphasised, when quizzed about his leadership responsibilities.  Cheeks further disclosed that his preparations are coming along perfectly, and even though he misses home, his focus remains renewed. 
 "I'm working mainly on my shots, to get them more precise, whether it's being tighter to the wall, or dying in the back of the court, making them hard to retrieve.   "I'm also working on my serves, so that I can construct a lot of three stroke rallies," he said of the specific areas he is working on, as he trains at the GoodLife Fitness Dunfield Gym, on Eglinton Avenue East in Toronto.
 Meanwhile, Saywack, like his captain, said that the team understands the gravity of the situation and will stop at nothing to regain the all-around title.
 "I am extremely motivated to regain the all-around title for Guyana. Our team understands that our main goal is to regain that title," he explained. 
 "My preparations are coming along well. I have been committed to my training schedule – that has improved my on-court play, fitness and overall growth as a player," he added.
 The output from both, as leaders and players will be crucial to Guyana's chances this year.  Cheeks, in particular, who plays with plenty of sauce, grit and emotion – which sometimes overwhelms him – will need to synchronise his reactions and use them to overcome any adversarial moments in Jamaica. 
 There is no doubt surrounding his athletic ability, as he scurries around and plays with plenty of energy. However, it is now hoped that with his recent time in Canada, he has made a few tactical changes to his game to become a more complete player.    Cheeks and Saywack, who understand the gravity of the situation, will be surrounded by a slew of young talents who are quite capable of delivering the goods.   They are some of the most exciting players in the Caribbean, including Kirstin Gomes, Abosaide Cadogan, Michael Alphonso and Shomari Wiltshire. 
 Wiltshire and Taylor Fernandes were the only Guyanese to win gold last year, and the former is perhaps the player with the best chance of collecting another gold this year.
 Wiltshire is that good a player. He monopolises the tempo on the court and his unassuming disposition creates an exciting mood. 
  All in all, the team has an excellent chance of returning to their winning ways
. Once again, the team will be under the watchful eyes of Coach Carl Ince, whose years of experience on the Caribbean circuit will be of immense value. The extent of their success, however, will be determined by how the players manage their individual pressure situations. 
This year's Junior CASA Tournament runs from 8th-14th July in Jamaica.
Around the Web