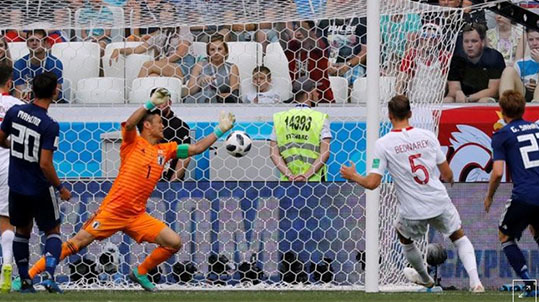 VOLGOGRAD, Russia,  (Reuters) – Japan lost 1-0 in a dull game with Poland on Thursday but still became the only Asian side to qualify for the World Cup's last 16 — and the first team ever to progress thanks to FIFA's new disciplinary tie-breaker rule introduced at this World Cup for the first time.
Japan made it through Group H in second place thanks to their players having been shown fewer yellow cards than Senegal, who were eliminated instead to ensure there will be no African representatives in the knockout phase.
Japan excluded some of its most creative players, including midfielder Takashi Inui and Makoto Hasebe, from the starting line-up but coach Akira Nishino put that down to fatigue rather than any attempt to play for a draw.
"I decided that I was going to rely on the other match's result. We were not happy about the situation of course. It was not intentional… However, it was a very tough and risky situation," said Nishino.
Poland shook up the lethargic game – played in 36 degree Celsius (96.8 Fahrenheit) heat – in the 59th minute when Poland's Rafal Kurzawa floated a free kick to the far post and an unmarked Jan Bednarek scored from close range.
Nishino introduced Inui minutes later, but Japan barely fought back and the game petered out in the dying minutes in farcical circumstances with both sides, content with the result, idly rolling the ball around in their own half amid the fans' boos.
Poland were relieved to have restored some pride by eking out a win but they finished at the bottom of the group as one of the tournament's biggest disappointments.
The Poles reached the quarter-finals of Euro 2016, where they went out on penalties to eventual champion Portugal, and more had been expected after they had finished top of their qualifying group for the World Cup.
Around the Web