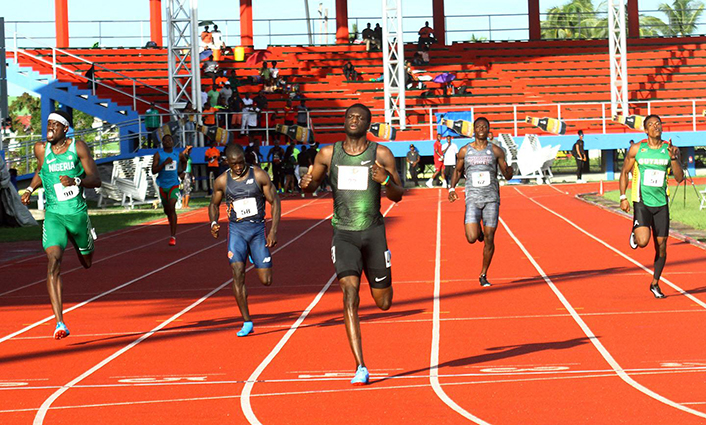 Former Olympic and World champion Kirani James brought his talents to the 592 and claimed the marquee 400m event at the third Aliann Pompey Invitational (API), clocking a winning time of 44.99 seconds.
The Grenadian known as the 'Jaguar' finished about eight metres ahead of his nearest competitor to record the fastest quarter mile ever run in Guyana despite the rainy conditions at National Track and Field Centre (NTFC).
The meet's headliner produced a blistering final 200m burst to beat runner-up Chidi Okezie (45.97s) of Nigeria. Guyana's 400m metre record holder, Winston George joined the duo on the podium after finishing in 46.13s, almost a second slower than the time he won last year's race in (45.16s) while lowering the national record.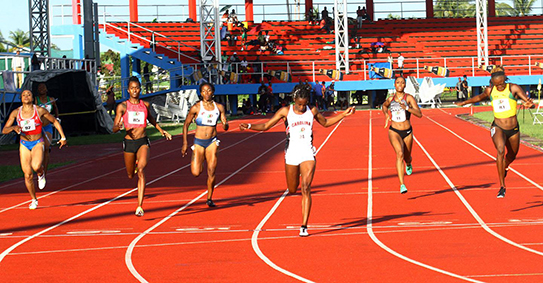 James' impressive showing came just weeks after he announced that he has Graves' disease, an immune system disorder.
The long striding 25 year-old said post-race that he is "trying to improve my health and preparation day-by-day and it's just a blessing to be here and competing."
The Grenadian, who won gold and silver at the 2012 and 2016 Olympic Games, had announced that he was here to put on a show and that is exactly what he did despite according to him, not "executing the first 200m as I wanted to."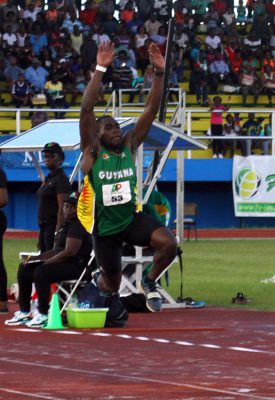 James, who returned to competitive racing two weeks ago in Jamaica, added: "It's been a long road, so I am just glad to be back. The track was damp and I am just getting back to racing after a year and some months and trying to stay focused and determined."
George was also relegated to third in the 200m behind Trinidad and Tobago's Kyle Greaux (20.43s) and Dominica Republic's  Yancarlos Martinez (20.80s) but bounced back to anchor Guyana's 4x100m team ahead of athletes from Trinidad and Tobago and teams made up of local runners.
Meanwhile, elsewhere on the track, Donald Scott stole the triple jump show, out jumping the field inclusive of Guyana's Troy Doris who is recovering from a leg injury.
Scott of the USA, disturbed the sand in 17.22m to take the gold ahead of Cuba's Cristian Napoles (16.96m) and Suriname's Miguel Van Assen (16.67m). Doris, the 2018 Commonwealth Games triple-jump gold medallist, never found a rhythm and finished fourth with a best jump of 16.09m.
Meanwhile, Emmanuel Archibald won the blue riband 100m event, clocking 10.29s. Greaux claimed the silver in 10.39s, while Martinez snared bronze in 10.43s.
Guyanese athletes, Leslain Baird (men's javelin), Aliyah Abrams (women's 400m), Quamel Prince (men's 800m), Joanna Archer (women's 800m), Winston Missigher (men's 5000m) along with Jamaican duo, Jonielle Smith (women's 100m) and Jodein Williams (women's 200m) were also in the winner's row.
The API which was dubbed a success, is the only event of its kind in Guyana where athletes from across the Caribbean, Central and North America, converge at the NTFC for what has been the best showing of Track and Field in these 83,000 square miles. (Emmerson Campbell)
Around the Web