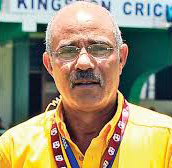 BRIDGETOWN, Barbados, CMC – Former West Indies wicket-keeper Jeffrey Dujon wants to see a myriad of pitches being prepared in the Caribbean to help properly prepare West Indies batsmen.
Dujon's comments came in the wake of the regional side's batsmen inability to deal with a grassy Kensington Oval pitch, which saw Sri Lanka dismissing them for paltry scores of 204 and 93 in the third and final Test.
It resulted in the West Indies losing the match inside four days, and left the three-match series tied at 1-1.
"This pitch was a breath of fresh air and the one in St Lucia wasn't too bad either. In order to understand and to play in various conditions, we must have different types of pitches in the Caribbean," the 62-year-old Dujon said during an interview on the Line and Length show on Saturday.
"We must have pitches that are good for batting, we must have pitches which are good for the bowlers and where you have to learn to play on surfaces which don't particularly suit you, so I think this is a step in the right direction. We probably need to get a few kinks out of this pitch, but if we can have a Kensington pitch which is like this and is even, in terms of being smooth, I have no problem with that."
Dujon, who played 81 Tests and 169 ODI's for the West Indies, admitted that while the Kensington pitch was a bit grassier than usual, it was still a good pitch where batsmen could score.
"Well to be honest with you it's the first time I've ever seen so much grass on a Kensington pitch…but I thought it was a good pitch. It held up nicely, but I think it was a little bit uneven, it probably needed a little bit more smoothing out.
"The grass was a good feature because it kept the bowlers interested right through and if you were willing to stand up and bat and just obey the rules of batting on seaming wickets, you could make runs as we saw with the few batsmen who got runs. It was a result wicket and the team that used it better won," Dujon said.
Around the Web