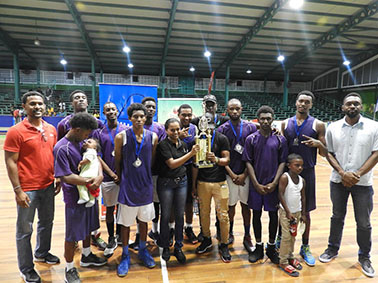 Linden Technical Institute (LTI) repeated as U19 champs while Kwakwani and Marian Academy successfully defended their U16 and girls titles respectively when the National School Basketball Festival (NSBF) concluded on Sunday.
Played at the Cliff Anderson Sports Hall, Homestretch Avenue, LTI edged fellow Linden unit Mackenzie High School 96-93. The division's Most Valuable Player (MVP), Jamal Gilkes accumulated a monstrous double-double of 27 points and 28 rebounds to ensure the title remained in his team's grasp.
 He was assisted by Daniel Lee, the top scorer of the clash, with important figures of 32 points and eight rebounds.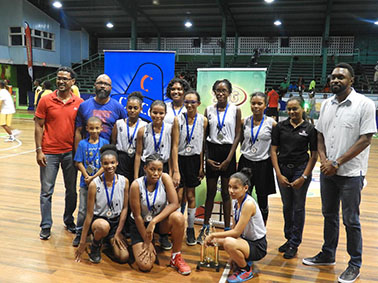 For Mackenzie High, Yonnick Tappin scored 29 points and pulled down five rebounds while Immanuel LaRose battled to a double-double of 26 points and 12 rebounds.
In the U16 final, Kwakwani overcame Marian Academy 49-42 with MVP of the division Kadeem Dover, netting 13 points and pulling in five rebounds in the victory while Royon Shortt chipped in with nine points and 11 rebounds.
For Marian Academy, Ethan Fernandes top scored with 12 points.
In the girls final, Marian Academy proved too strong for East Coast Demerara unit President's College, winning 38-17.
Jada Mohan, MVP of the section, single handedly secured the win for the Carifesta Avenue outfit with 18 points, 10 rebounds, seven steals and five assists.  The next best scorer for the victors with eight points was KelliAnn Sauers. For President's College, Annalisa Barclay netted seven points.
Meanwhile, Kwakwani downed Marian Academy 28-23 to capture the U14 title. Matthew David, MVP of the section, recorded a double-double of 10 points and 11 rebounds.
He was assisted by Lebron Kissoon who scored eight points. For the losing Marian Academy side, Lamar Austin tallied nine points.
The tournament was sponsored by Edward B. Beharry and Company Ltd, Banks DIH LTD and the National Sports Commission.
Around the Web