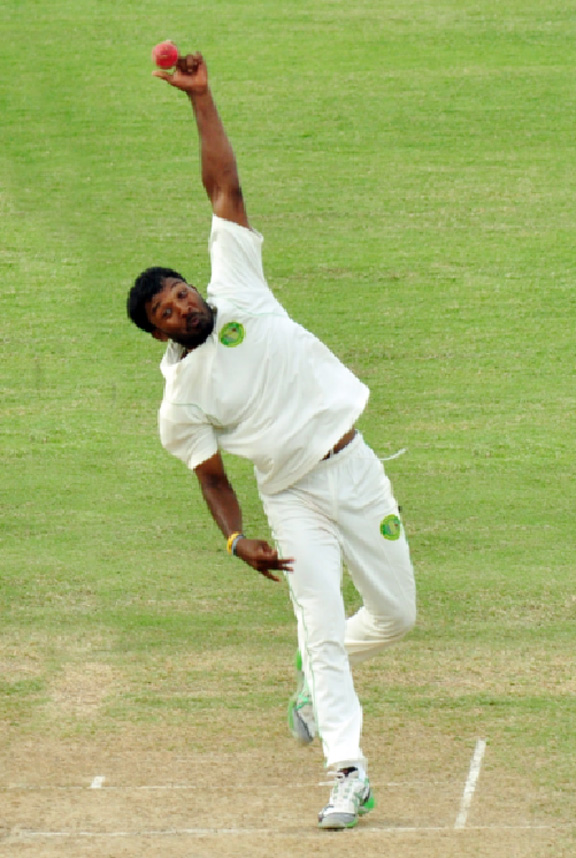 Out of favour left arm spinner Veerasammy Permaul is frustrated by being overlooked in the West Indies set up for the longest while.
In an exclusive interview with Stabroek Sport, the 28-year-old Berbician said that it was distressing that he was unable to make it to any regional team despite constantly being among the top bowlers in the region.
Cricket West Indies (CWI) currently has selected four teams namely, the senior test side, An A team currently in England, A B team currently in Canada and the CWI President's XI which played a warm up game against Bangladesh.
A total of over 50 players representing the Caribbean and Permaul is not one of them.
Back in April, Permaul made his T20 debut but was only able to bowl three balls before he injured his ankle.
He recovered before the `B' team and the President's XI teams were selected and he is available for Bangladesh's tour of West Indies.
Permaul earned a maiden call up in the West Indies T20 side but was not good enough to make a West Indies`B' team for the Global T20 Canada competition which also features in excess of 20 West Indians in the other teams.
Permaul said that he was puzzled how one can be chosen for the T20 senior team but not considered for lesser tournaments.
"I've been back in action since the beginning of June and I'm working on my fitness, strength, conditioning and other stuff because the rainy season doesn't have a lot of cricket." Permaul said.
He said that it was a mystery why he continues to be overlooked and is calling on CWI to give a reason for his non selection while making it public what their selection policy is and how it works.
Permaul finished with 50 wickets, the leading wicket-taker in last year's regional four day competition and was a key player in Guyana's successful defence of their CWI Regional four-day competition.
He has also finished among the top wicket takers in the last five seasons and has been a crucial member of the Guyana Amazon Warriors in the Caribbean Premier League.
But according to Permaul, he doesn't believe performance merits selection for everyone. It was only recently that the leading run scorer in the tournament, 36-year-old Devon Smith was given a recall despite his poor run in international cricket.
"To be honest, what I do in Regional Cricket means nothing, like my performance doesn't even count," Permaul said.
A comparison between the two will show that Permaul is younger and finished at the top of the bowling department.
Smith, like a number of players over the years was given a lot of chances to prove himself while Permaul has been given all of six tests and seven One Day Internationals where he took 18 and eight wickets respectively.
Permaul has been in the regional framework over a decade while making his international debut in 2012, giving him adequate experience while his age is at a point where players tend to peak.
It is therefore baffling why he has been discarded.
"I get one game once in far to prove myself while other players get a lot of tours," the crafty bowler said.
He added that it was baffling: "not know what is being used to select the team but clearly performance is not one of the keys."
The left-arm orthodox spinner with over 600 wickets said he can only control what he does and he will continue to perform well but will leave it in the hands of God.
Permaul is only one of many players who excel but cannot seem to make it into the West Indies representative teams.
He is not the first to come out and voice his concern about the selection policy of CWI.
Around the Web