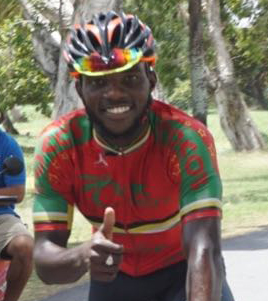 Team Cocos' Hamza Eastman is set to defend his title when the top riders in the country converge on the inner circuit of the National Park for the eight annual Hassan Mohammed organised Banks DIH Malta Supreme 11-race cycling meet this Saturday.
Eastman secured the title last year after completing the 35-lap feature event in a time of one hour and 21 minutes but this year it will be an uphill task for the talented wheelsman.
Eastman returned from the United States circuit with PSL's Romello Crawford and Evolution's Raynauth Jeffrey all of whom had good showings in the recent National Cycling championships.
Eastman will have to ride tactically with teammate Jamaul John, who will also be gunning for the title while the Evolution trio of Jeffrey, Paul DeNobrega and Christopher 'Chicken Legs' Griffith  could pose a threat to his defence.
We Stand United has a strong team with the likes of Andrew Hicks, who placed second in the National Road Race leading the team.
Surprise winner of the Road Race, Curtis Dey is also bubbling with confidence and can prove to be a fierce contender for the title.
The juveniles will turn out for a 10-lap showdown while the veterans will have a go as well.
Last year, Nigel Duguid won the juveniles event in a time of 23 minutes 59 seconds while Sean Green emerged victorious in the Under-50, five-lap race, in 11 minutes 12 seconds.
Ryan Canterbury won the Mountain Bike 5-lap event, Jonathan Ramsuchit took the 12-14 boys and girls 3-lap race in eight minutes, 25.15 seconds while the BMX Boys 6-9 years 2-lap race saw Jared Barrington taking first place.
Brand Manager, Clayton McKenzie will also be there with representatives from the beverage giant to witness the event and present prizes while race official, Joseph Britton, will be there to ensure everything goes according to plan.
Around the Web