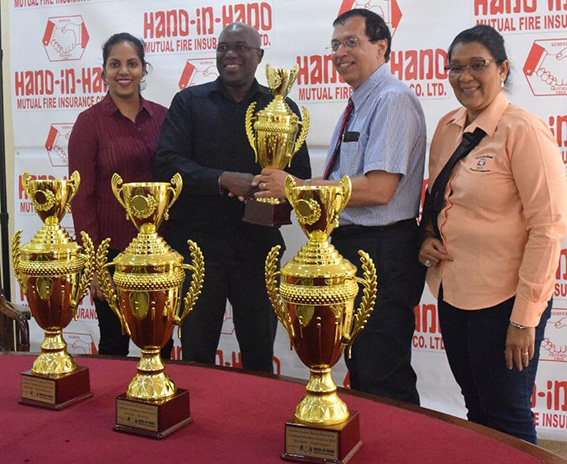 Hand in Hand Insurance Company has agreed to partner with the Guyana Boxing Association (GBA) ahead of next month's Caribbean School Boys and Juniors Tournament.
During a press briefing on Friday, Director of Hand-in-Hand Insurance and Manager of Fire, Howard Cox, presented four large trophies to President of the GBA, Steve Ninvalle.
The trophies will be awarded to the Best boxers in the male (junior) and schoolboy and the female (junior) and school girl categories at the third edition of the international event slated for August 17-19.
Ninvalle thanked Cox for the support stating that "the trophies will go a long way". He added that he was enthused that the company is onboard with the initiative and requested the presence of staff members at the event scheduled to be held at the National Gymnasium.
Ninvalle then reminded that Grenada has already sent in their registration forms of three males and one female boxer.
He added that Antigua, Jamaica, Cayman Islands, Trinidad, Barbados and St Lucia have also signaled their interest in competing at the fixture.
Cox noted that the tournament is "vital not only for Guyana but for the Caribbean" since boxers in the Region need to be more active in competitive combat."
Cox who is an executive member of the professional boxing board, added that "We are happy at Hand in Hand to contribute to the sport of boxing which has a soft spot in my heart."
He then encouraged other corporate entities to support the GBA's initiative.
Around the Web