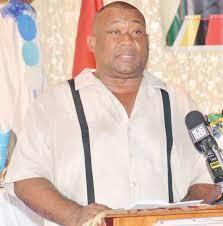 The Berbice Cricket Board (BCB), through outspoken President Hilbert Forster, is calling out Cricket West Indies (CWI) as well as the Guyana Cricket Board over their selection policies.
In an invited comment, Forster said that "the BCB is disappointed that [Veerasammy] Permaul is not selected by West Indies."
This, he noted was clearly a matter of not selecting on merit since Permaul finished the CWI Regional Four-Day tournament as the leading wicket taker and by virtue of this, coupled with consistent performances over the years should have merited his selection in the West Indies senior team.
Surprisingly, the left arm spinner has not been included in three teams currently selected by CWI namely, West Indies, West Indies A and West Indies B nor was he selected for the CWI President's XI which played a warm up match against Bangladesh.
The BCB president stated that it was puzzling that the leading wicket taker could not make three teams and argued that dominance does not seem to merit selection in the West Indies.
Permaul is not the only one to feel the blunt of the choices.
Shimron Hetmyer, fresh off a century in the warm up match against Bangladesh, was relegated to 12th man while Devon Smith, who totaled 91 runs in six innings, was named in the playing XI alongside Miquel Cummins who took three wickets in total from six innings.
Another Guyanese in all-rounder Keemo Paul who was plucked from the West Indies A team, also ended up doing water boy duties.
Foster was critical of the GCB as well, stating that it was hypocritical of them to call out CWI for their selection policy while they practice the same thing.
The BCB head stated that they are "also a little worried about the junior cricketers who are not given equal opportunities as other counties.
"We [Berbice] have dominated the GCB Inter-County competition but only four players from Berbice were selected, as a matter of fact only three from the Under-17 tournament were selected with Leon Swamy coming into the side from the Under-19 tournament."
According to Foster, "three players out of the 14-man squad coming from Berbice means that we are the worse and that is not true."  He stressed that the BCB is investing heavily in the youth players and indicated that just as the GCB is calling on CWI, BCB is calling on GCB to make fair decisions since it is unfair for the youngsters, or anyone to be treated like that.
Around the Web