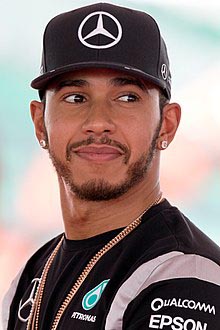 SILVERSTONE, England, CMC – Lewis Hamilton shook off a first-lap collision which left him last and drove superbly to finish second in his home Grand Prix, as Ferrari archrival Sebastian Vettel won at Silverstone here yesterday.
The 33-year-old Brit finished just over two seconds behind Vettel, whose teammate Kimi Raikkonen rounded out the podium.
With the victory, Vettel extended his lead in the drivers championship, now eight points ahead on 171 points.
Afterwards, Hamilton lamented being unable to delivery victory for home fans which would have also seen him nail a record sixth British Grand Prix.
"This is the greatest race of the year and this is the greatest crowd and I'm sorry I wasn't able to bring it home for you today, but thank you for your support," Hamilton said.
"It's you guys that helped me get through today. We'll take it on the chin and keep pushing hard, because believe me I will not give up. I will not give up."
Hamilton started on pole but squandered that advantage when wheel-spin at the start saw him fall behind Vettel, who started second and Mercedes teammate Valtteri Bottas, who also capitalised to move into second.
More frustration followed on Turn Three when Raikkonen locked up and crashed into Hamilton, leaving the reigning World champion to rejoin the contest in 18th position.
However, he wasted little time in slicing his way through the field, storming to 11th place within six laps and requiring only another five laps to reach the top six.
Brilliant pit-stop strategy by Mercedes following two safety cars late in the race then saw Hamilton sneak further ahead, though it was not enough to overhaul Vettel.
"It's a tough day, to leave having lost points having been on the pole, but it is the way it is. You live to fight another day. I'm great to have been able to get back to second and minimise the loss," Hamilton said.
"The rear of the car was moving around a lot, particularly with the left-handers and obviously I had been hit on the right. So I was nervous I had lost part of my floor or something because the car was moving for unknown reasons, but then it started to get better and better, after some tweaks to the settings.
"I was able to get the car more under control and the pace started to pick up. I'm grateful the car was in one piece and I'm grateful to get through."
Around the Web