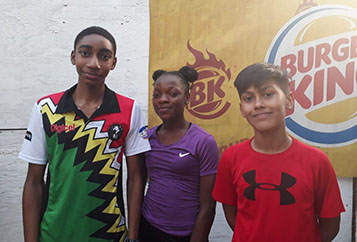 Shomari Wiltshire, Abosaide Cadogan and Michael Alphonso are the Guyanese title contenders in this year's edition of the Junior Caribbean Area Squash Association (CASA) tournament after winning their semi-final matches yesterday in Jamaica. 
However, Rithew Saywack, who suffered a series of injuries in last year's edition of the tournament which limited his participation, came close to defeating the defending champion and number one seed Josiah Griffith in the first boys U19 semis losing by three sets to one. 
Saywack lost to the Bajan of Guyanese parentage 11-6, 11-3, 9-11, 11-2. 
In the other semi-finals Guyana's Alex Cheeks lost to Jonathan Walker in the final 11-4, 11-8, 11-7.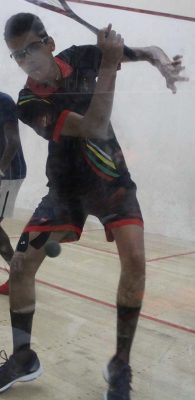 It was a disappointing day for the Co-captains as Rebecca Low, like Cheeks, failed to make it into the final after she was defeated by Trinidadian Alexander Yearwood 11-8, 14-12, 11-8.  
Wiltshire, on the other hand, who is reigning boys' U15 champion, coasted in the final with a straight-set win over Matthew Elliot of Bermuda 11-2, 11-1, 11-2 while his countryman Samuel Ince-Carvalhal dropped his semi-final match to Bajan Darien Benn 9-11, 11-9, 8-11, 3-11. 
Meanwhile, the highly rated Cadogan in her semi-final match against fellow Guyanese Kirstin Gomes, won 11-7, 11-7, 11-7 to set up an exciting finale with the two-time girls U13 champion Sumirra Suleman of Barbados. 
Suleman defeated Guyanese Madison Fernandes 11-6, 11-0, 11-0 in the other semi-final match.
The second day also saw Guyana's little maestro Alphonso defeating Bajan Alex Steward 11-7, 11-1, 6-11, 11-7 to book a place in the boys U13 final against number one seed Aidan Parris of Barbados today. 
Daniel Islam, however, failed to make it past Khamal Cumberbatch in the boys U17 semis, surrendering to the Bajan who is the number one seed 11-3, 11-2, 11-4. 
Georgiana Fernandes, the lone Guyanese in the girls' U13 category, lost her semi-finals match against Trinidadian Sigourney Williams 11-4, 11-6, 11-0. 
She, like all the others who failed to advance to the finals will place for third place honours. 
It was also a disappointing day for Chad De Abreu who lost his boys' U11 semi-final match against Jaydon Williams of the Organisation of Eastern Caribbean States (OECS) 11-4, 11-9, 11- while Guyanese Christina Fernandes sits in the third position on the leader-board in the girls' U13 category after three rounds. 
 That category is being played on a round robin basis. 
Around the Web