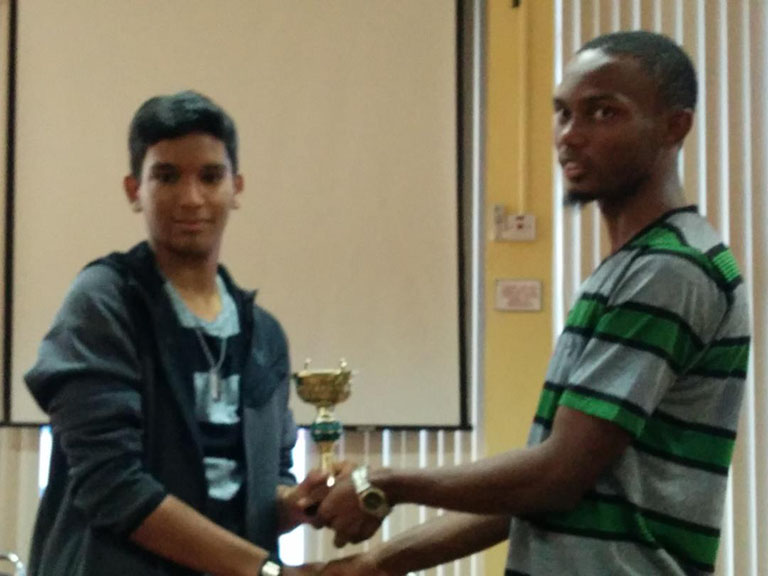 Marian Academy chess champion Ethan Lee continued his impressive 2018 form with another convincing win at the Wendell Meusa Chess Foundation (WMCF) tournament last weekend.
Two weeks ago, Lee played undefeated at the Marian Academy tournament and he replicated that feat again by winning all seven games convincingly in the seven-round Swiss System tournament.
Top juniors such as national junior champ Joshua Gopaul, Jaden Taylor and Ghansham Allijohn did not play in the event and the only participant that provided some challenge for the 15-year-old was Rajiv Lee of Queen's College when the two clashed in the Sicilian Defence.
However, Lee's superior knowledge and experience in the opening helped him to secure the win after some inaccuracies by Rajiv Lee who placed second with 5.5 points. His only defeat coming at the hands of his namesake.
He also played to a draw with young Chelsea Juma.
According to Meusa, Rajiv Lee, in his first tournament showed lots of potential with some aggressive and tactical combinations that surprised and blew away the other participants.
Third was Odit Rodrigues who finished on 4.5 points ahead of 12-year-old Juma.
Juma, who was reportedly not well on the opening day of the event, rebounded on day two, finishing on 3.5 points to win best female prize and placing fourth.
She lost one game, won two and drew the final game on Sunday which earned her one month free training at the foundation.
Eleven-year-old Ronan Lee took the youngest player prize, finishing on three points followed by Jonathan Stephney of Marian Academy and Jarrell Troyer of St. Stanislaus College.
Juma along with 14-year-old Sasha Shariff are training for the CAC (Central American & Caribbean) Women's Championship which is scheduled to be kept at the All Seasons Resort, St. James, Barbados from July 27th – 03rd Aug.
This will be the first time Guyana will be sending female representatives to the tournament and the young ladies will be seeking financial assistance to cover their airfare.
Persons desirous of providing financial assistance can call Meusa (664-0124) or Jardine (692-2708)
Around the Web