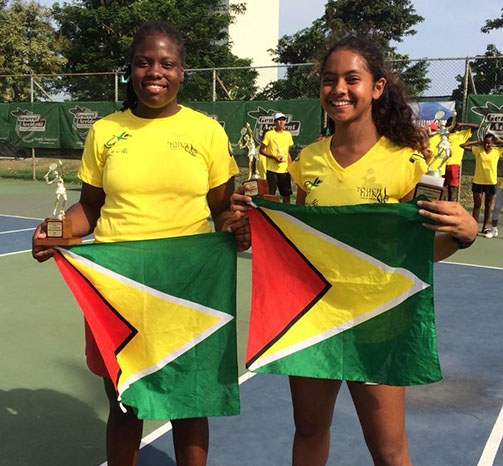 Sarah Klautky secured the girls U14 title in the Touch Tuina Blue Mountain Caribbean junior tennis championships in Jamaica while she partnered with Afruica Gentle to finish runners up in the girls Open doubles.
According to a release, the U4 title was decided in a round robin format with Klautky defeating Kalia Morris 6-2, 6-2 in the first round.
She then marched past eventual second place Thandie Sampson 8-1 in the second round and cemented her name on the title with an 8-1 win over Courtney Chin.
Klautky returned to partner with Gentle but were halted in the final, going down 4-1, 5-2 in short sets to Micheala Stephens and Jenna Harrison.
Alana Chung finished fourth in the girls U4 singles, defeating Harrison in the first round and Peta-Gaye Graham both by 6-0. 6-0 score lines while Kalyca Fraser won her lone match against Chung in round three.
In the girls U18 singles, Gentle advanced to the semifinals after earning a walk over against Hayley McNair but went down 6-0, 6-1 to Stephens. Fraser defeated Onika Shaw 6-0, 6-0 to go into the second round where she lost to Stephens 6-4, 6-2 in a heated contest.
Chung emerged victorious in the first round, disposing of Aanchal Khemlani 0-6, 7-6(7), 10-6 but was eliminated by Harrison 6-0, 6-0.
With six boys in the U18 category, Jordon Beaton defeated countryman Ariel Khan 6-0, 6-1 in the first round and advanced to the semifinal with a 6-1, 7-5 win over Cole McNair but lost to Damani Cain 6-0, 6-1 who was crowned the overall winner.
Joshua Kalekyezi and Viraj Sharma battled in another clash of countrymen with Kalekyezi advancing with a 7-6 (5), 6-0 margin.
Heimraj Resaul secured a first round walk over but was eliminated by Mario Campbell 3-6, 6-3, 10-2 in the longest match of the group.
In the boys U16 division, Beaton defeated Richard Barnett, Sharma won his match against Daniel Azar, Resaul beat Romeo Edwards while Kalekyezi exited in the first round.
Sharma and Beaton were eliminated in round two while Resaul defeated Keyondre Clarke to move into the semifinal before beating Cole in the semi.
His glorious run ended in a tense battle with Cain in the final where he lost 6-1, 6-4.
In the U14 boys division, Sharma and Kalekyezi made it to round two while Resaul made it to the semifinal, losing to Daniel Azar 6-4, 5-7, 10-4.
Around the Web