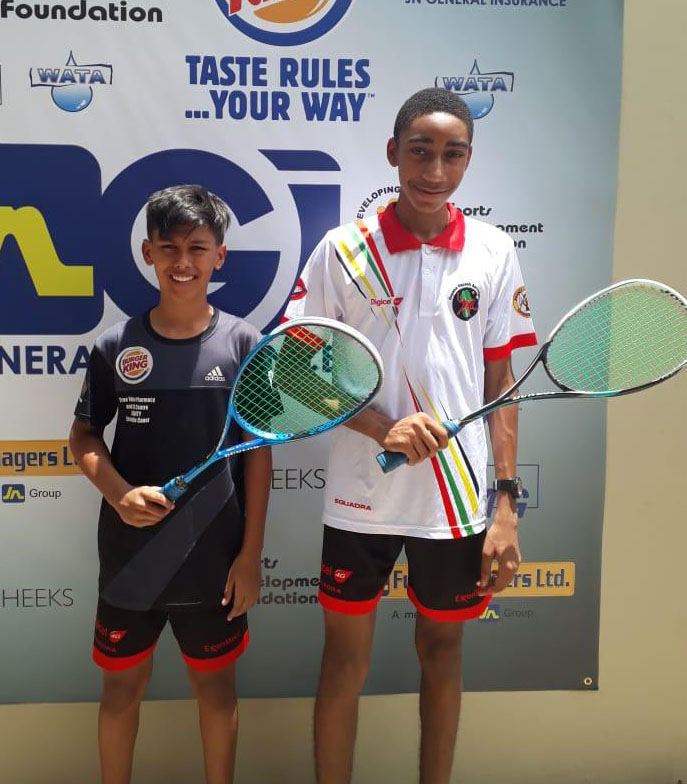 Shomari Wiltshire and Michael Alphonso were the lone Guyanese title winners in the singles category in the 2018 edition of the Junior Caribbean Area Squash Association (CASA) tournament after capturing the boys' U15 and U13 titles respectively, yesterday in Jamaica. 
On a day where Guyana featured in six third-place matches, three of which they won, albeit two were all-Guyanese matchups, the highly skilled Wiltshire, who was the defending champion, hardly broke a sweat and retained his title by disposing of Bajan Darien Benn 11-3, 11-3, 11-9 in the final. 
Wiltshire, in his semi-final showing the day prior, dished out another straight-set win over Matthew Elliot of Bermuda 11-2, 11-1, 11-2.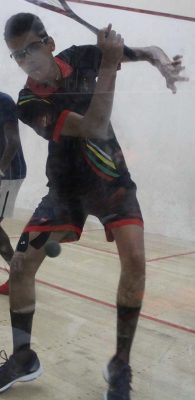 Samuel Ince-Carvalhal won bronze after defeating Elliott 11-6, 11-5, 14-12 in the third-place playoff. 
Alphonso, on the other hand, who defeated Bajan Alex Steward 11-7, 11-1, 6-11, 11-7 in the semi-final on Monday, captured the boys' U13 title by downing the number one seed, Aidan Parris of Barbados 11-3, 12-10, 11-3 in the final. 
Abosaide Cadogan, however, who was the other Guyanese to capture a place in a final, was stopped by Bajan Sumirra Suleman 3-2 in the girls' under U15 final. 
Suleman, who in 2017 won the girls U13 title, took the first set 11-1 before Cadogan struck back to earn the next two sets 11-5, 11-5. 
Suleman, though, held her own in the final two sets, winning both 11-4, 11-9 to walk away with the girls U15 crown. 
The girls' U15 third-place playoff between Guyanese duo Kirstin Gomes and Madison Fernandes also went the distance with the former winner 3-2.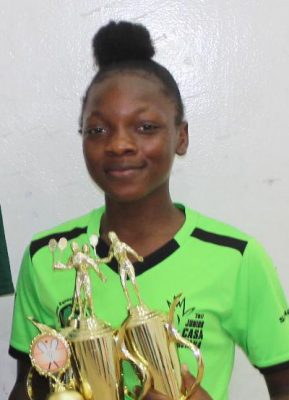 Gomes, who was defeated by Cadogan in their semis, took the first two sets 11-1, 11-8 before Fernandes struck in the third and fourth winning 11-6, 11-7;
Gomes nonetheless, dug deep and took the final set and the match 11-3. 
Guyanese duo, Rithew Saywack and Alexander Cheeks, were also pinned against each other in a third-place match after both failed to go past the semi-finals stage in the boys U19 category. 
Saywack on this occasion, came out on top, winning the duel 11-5, 9-11, 11-9, 11-3.
National co-captain, Rebecca Low also suffered defeat in her third-place match against Marie- Claire Barcant of Trinidad and Tobago losing 11-6, 11-2, 11-5 while Daniel Islam also lost his third-place match in the boys' U17 category 2-11, 3-11, 3-11 to Kai Bentick of the Organization of Eastern Caribbean States (OECS). 
Chad De Abreu also came up short in his boys U11 third-place match, losing to Jayden George of the OECS 11-8, 9-11, 9-11, 11-6, 7-11. 
Around the Web