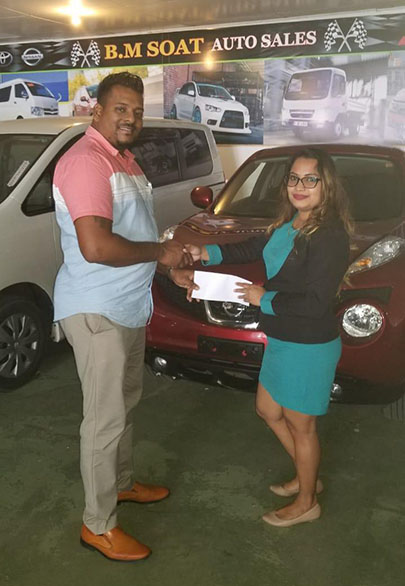 The 12th annual Guyana Cup horse race meet scheduled for August 19th at the Rising Sun Turf Club has already begun to gain momentum in the form of support from corporate citizens.
The Jumbo Jet Thoroughbred Racing Committee, organizers of the biggest horse race meet in the 592, recently received sponsorship from BM Soat Auto Sales and Gizmos and Gadgets.
Nandanie Persaud, Secretary for BM Soat and Sales Representative of Gizmos and Gadgets, Sofia Dolphin, were the ones handing over the sponsorship cheques to a representative of the Guyana Cup 2018.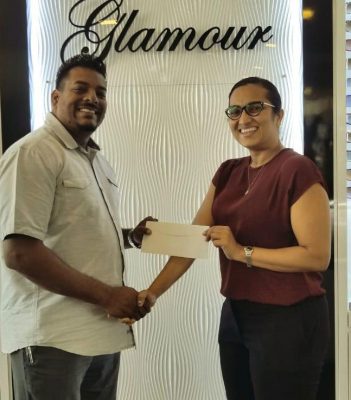 On race day, the C Class and Lower 1600m event will be the feature with a total purse of $3,875,000. The race is open to all imported and locally bred horses of all classes.
The co-feature is the Three-year-old Derby, an 1100m event with a purse of $2,000,000. This race will feature only locally bred horses.
The G1 and Lower 1400m race will see the top prize winners pocketing $1,550,000. Guyana and West Indian bred horses classified G1 and Lower and imported horses classified E3 and Lower non earners in their last races will be eligible to compete.
The other races carded are the H3 and Lower (1100m with a purse of $1,350,000); Two-year-old Guyana bred (1100m; $680,000); I Class and Lower (1400m; $581,000); J3 and Lower (1400m; $485,000); L Class (1400m; $390,000); L Class (1400m; $390,000); and L Class (1100m; $290,000).
Around the Web