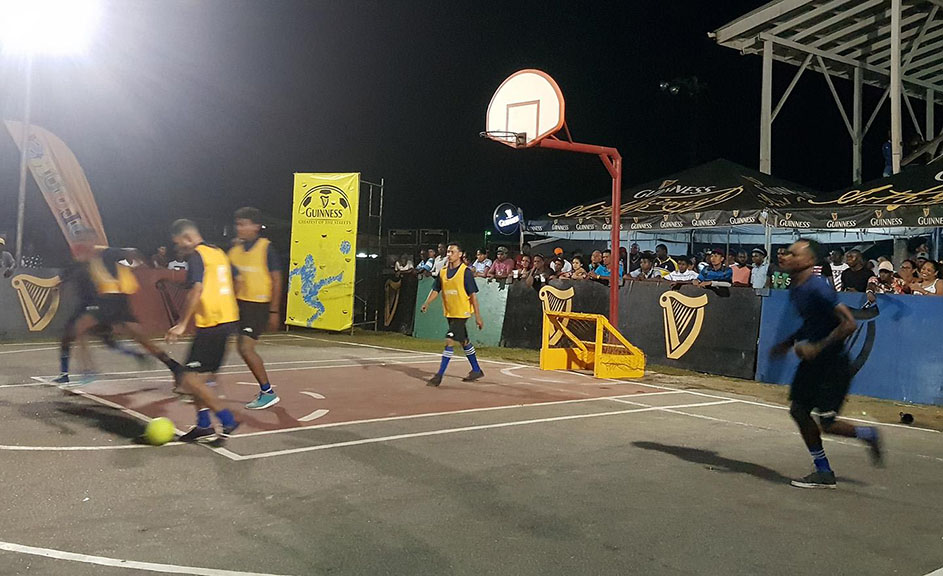 Defending champion Rivers View sent a stern warning to the field, while Goal-Raiders, Almanac Kings and BLB Squad copped easy wins, when the Guinness 'Greatest of the Streets', Bartica Championship, commenced on Friday.
Hosted in front a large crowd at the Bartica Community Center Tarmac, the titlist overcame a one goal deficit to hammer Mighty Ruler 5-1.
 Falling behind to a 11th minute conversion from Devon Elias, Rivers View quickly responded in the form of Shaquille Hopkinson two minutes onward.
Andel Norton gave River View the lead in the 15th minute with a strike from the left side of the field
Romario Lake got into the scoring act in the 17th minute, slotting home from the right side, following a swift counterattack.
The score line was then sealed in the 20th minute, as Godfrey Norton tallied a Guinness Goal (GG)-(A goal scored in the final three minutes of the match counts as two), placing his effort into the left corner from the right side of the field.
Meanwhile, Almanac Kings downed SML 2-0. The evergreen Ricardo Pereira was a thorn in the side of SML, bagging a brilliant brace in the second and 14th minute.
Also, Goal-Raiders dismantled Impact 3-0. Brian Browne tallied a (GG) in the 19th minute, while Sherwin DaSilva scored in the fifth minute.
Similarly, BLB Squad made light work of Arcade Lotto 2-0. Sheldon Kyte and Tevy Stoll scored in the seventh and 15th minute respectively.
In other results, Potaro Strikers overcame Agatash 3-2. Ron Smith recorded a double in the 10th and 13th, while Kurt Spencer scored in the seventh minute.
For the loser, Andrew Simons was on target in the third and sixth minute.
Street Kings was also amongst the winners, edging Hard-Tackle 1-0 led by a Seon Ferrier strike in the sixth minute.
  The final two round of 16 matches will be staged before the commencement of the quarter-final round.
At 19:00hrs, last year's losing finalist Police oppose Disconnection Crew, while Joan's Avenue battle Times Square at 19:30hrs.
The winner of the tournament will pocket $350,000 and the championship trophy. They will also earn the right to represent the zone at the National Championship slated to be start from July 27th.
The losing finalist will receive $200,000 and the respective accolade, while the third and fourth place finisher pocket $100,000 and $75,000 respectively and a trophy.
The ceremonial kick-off was conducted by Regional Chairman Gordon Bradford, while Mayor of Bartica Gifford Marshall made opening remarks.
Around the Web