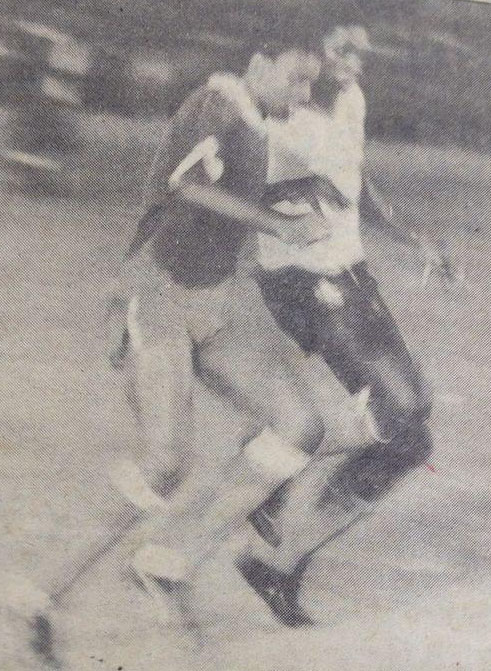 Says Charwayne Walker
Ever so often, when the history of international football is discussed in the Caribbean Football Union region, the names often mentioned are Dwight York, Russell Latapy, Clint Marcelle, Steve David, Theodore Whitmore, Deon Burton, Ian Gradison, Everton Gonsalves, Stern John, Walter Boyd and Emmanuel Sanan. 
Undoubtedly the above mentioned players were standouts for their respective countries and clubs but none of the above could boast of scoring nine senior international goals at 18-years-old.
The name Deon Barnwell is probably unknown in the Caribbean football circles.
Barnwell will best be remembered for teaming up with Frank Alphonso Jr., to become two of the best young strikers in the Caribbean.
Born on the 28th of March, 1969, Barnwell's first outing in national colours was July, 1985 at the Robbies International U19 tournament in Toronto, Canada where he was one of the leading goal scorers with 13 goals.
He was Guyana's MVP in his next international assignment, this time in Paramaribo, Suriname, where the late Mervyn `Pug' Wilson coached national U21 team engaged their counterparts from French Guiana and Suriname.
So it was no surprise when Coach Lennox `Mulling' Arthur named Barnwell in his 20-man senior national squad in November 1985 to engage French Guiana in two friendly internationals at Camp Ayanganna.
At 16-years, eight months old, Barnwell became the youngest player from Guyana to score on his international debut.
Guyana won that friendly 2-1. He was the marksman again in the series finale, this time Guyana was held to a one all draw.
His next international goals were a magnificent double against The Bahamas in Nassau. That performance led Guyana to a 3-1 victory in that Olympic Qualifier, January 25, 1987.
Goals numbers five and six were achieved against St. Lucia in Castries on January, 29, 1987. 
Guyana won that international friendly 3-1. Goals numbers seven and eight silenced Bridgetown because Guyana came from behind twice to draw that international friendly 2 all in March, 1987.
Goal number nine helped Guyana humble Grenada 3-0 at the Mackenzie Sports Club ground, July, 1987.
At 18-years-old, Deon had scored nine senior international goals.
Could the records show which other 18-year-old in CFU history ever achieved this feat?
Barnwell is also the youngest Guyanese to captain the land of the mighty Kaieteur in a World Cup qualifier. He was 19 years, one month when he led Guyana against Trinidad and Tobago at Camp Ayanganna, probably a feat unmatched in Concacaf.
Barnwell featured in 39 senior internationals for Guyana scoring nine senior international goals.
 International Tours:
1985 Toronto, Canada, Robbies International.
1985 Suriname International under 21, Triangular Series.
1986 Toronto, Canada, Robbies International.
1986 Suriname C.F.U under 19 Eliminator.
1987 Bahamas Olympic Qualifier.
1987 St. Lucia International Friendly.
1987 Barbados International Friendly.
1987 Dominican Republic Olympic Qualifier.
1987 Guatemala 2 Olympic Qualifiers.
1987 Los Angeles Olympic Qualifier.
1988 Trinidad and Tobago World Cup Qualifier.
1990 Suriname Shell Cup.
1992 Suriname Shell Cup.
1992 Suriname World Cup Qualifier.
1993 Trinidad and Tobago Goodwill Tour.
1994 Suriname Shell Cup.
1994 Antigua and Barbuda International Friendly.
1994 St. Kitts International Friendly.
1996 Suriname Shell Cup.  
Around the Web