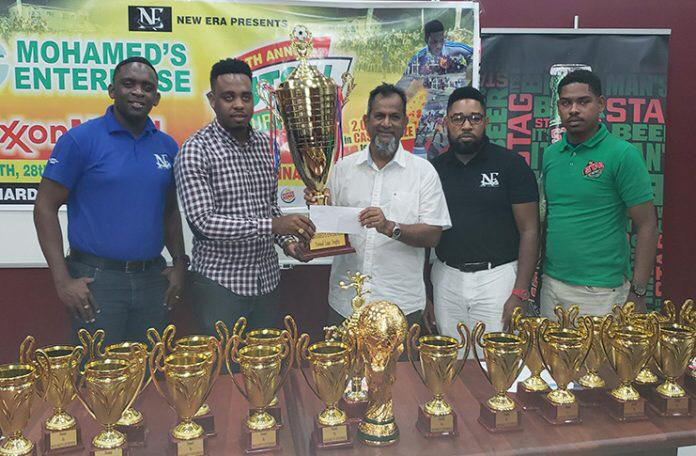 —It's the dawn of a new era for Futsal competitions in Linden.
With major oil conglomerate ExxonMobil coupled with the largesse of longstanding sports financial contributor Mohammed's Enterprise, the New Era Entertainment Company launched its lucrative Futsal competition for teams in Linden.
The tournament, which will get underway on July 27, will be played at the Mackenzie Sports Club tarmac.
According to the Managing Director of Mohamed's Enterprise, Nazr Mohammed, his company was extremely pleased to support the annual tournament which is now in its fifth year.
Father of former national junior player Azrudeen Mohammed, the elder Mohammed stated that: "It's really an honour for Mohamed's Enterprise to be a part of this New Era Futsal family. We would appreciate having football played in the right spirit. We are always part of sport with support of the Kashif and Shanghai tournament for over 25 years and we will continue to be part of sport for years to come."  He was of course referring to the once successful Kashif and Shanghai end of year football extravaganza pioneered by Kashif Muhammad and Aubrey `Shanghai' Major and Nazr Mohammad has singlehandedly been one of the biggest if not the biggest supporter of sports in Linden.
Mohammed has promised to assist the organisers with three stands with ExxonMobil assisting with the fourth.
New Era Director Kenrick Noel said the tournament has become a fixture in the Region 10 community adding that with the support now of ExxonMobil, along with the continued support of Mohamed's Enterprise, the longevity of the tournament was assured.
The tournament, which ends August 18, has a first place prize of $600 000, with $250 000 for the runners up while the third and fourth-placed teams will receive $100 000 and $50 000 respectively.
Around the Web