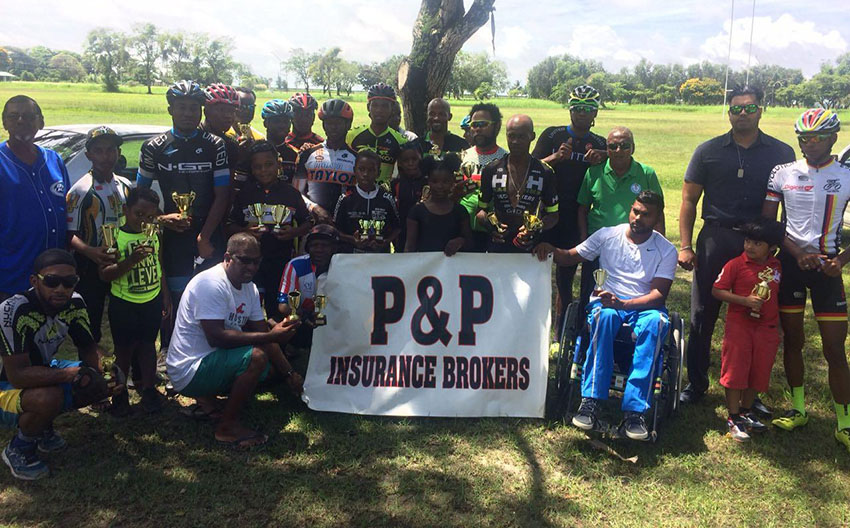 Team Cocos' Jamaul John outsprinted a six man dash while fending off a surging Team Evolution's Christopher Griffith to take the 18th annual P&P Insurance Brokers and Consultants 11 stage cycling title on Saturday at the National Park.
John clocked in a time of one hour, 16 minutes and 52 seconds to complete the 35 laps, half a wheel ahead of Griffith who paced the innings well.With about 500meters to go, John moved swiftly from the back of the pack to the lead position with Griffith trailing closely on the penultimate turn.
We Stand United's Deeraj Garbarran who took control of the visably tiring race with four laps to go settled for sixth after exhausting himself at the front of the pack while Paul Choweenam, Walter Grant Stuart and Marcus Keiler finished third to fifth in that order.
Griffith collected three sprint primes while Garbarran secured two as John, Keiler and Warren McKay grabbed one each.
Steve Bhansen was the only rider in the 12-14 years old category, completing the three laps in eight minutes while Lear Nunes copped the top spot of the Under-50 division five lap race in 11 minutes and 25 seconds.
McKay finished second as Sequan Hubbard rounded off the podium.
In the Over 50 event, Ian Jackson dominated with Kennard Lovell finishing second and Linden Blackman in third.
Briton John retained his 10-lap junior/Juvenile title however, clocking in a time four minutes slower at 25 minutes and 36 seconds.
Denzel Huntley and Adealie Hodge finished second and third respectively in that category.
Last year's 35-lap winner, Mario King this year rode the Mountain Bike division, proving to be the best, ahead of Jude Bentley and Jamal Campbell.
Jarred Barrington, Javin Henry and Jessica Mohabir finished in that order of the 6-9 years category,
Around the Web